What to Consider before Pursuing a Master of Accounting
What to Consider before Pursuing a Master of Accounting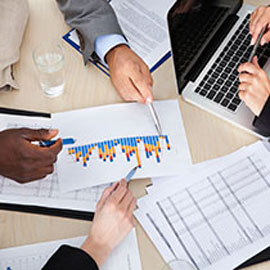 Many students and professionals feel that a Master's degree will serve them well. Some students make the decision to pursue a Master's degree because they believe it will open the door to better jobs with higher pay upon graduation. Professionals already employed in the workforce often choose to pursue a Master's degree because they have hit a wall in their career and believe a Master's is the best way to break through to better positions.
Before investing the time and money in pursuing a Master of Accounting, students and professionals need to stop and consider a few factors that come into play during their decision-making process. Each of these factors will have different values to different individuals, but they are nonetheless important for any considering this Master's degree.
CPA or CMA
One of the most important factors to consider when looking into a Master's in Accounting is whether or not an individual currently works, or plans to work in the future, as a public or private accountant. In order to get ahead as a public accountant, individuals need to eventually sit for a Certified Public Accountant (CPA) exam, which requires in most states that individuals have completed upwards of 150 semester hours of post-undergraduate studies, as well as other requirements such as residence, and experience.
The Certified Management Accountant (CMA) designation does not require an individual to have completed a Master's in Accounting. Instead, individuals need only a Bachelor's degree in accounting or a related field as well as relevant work experience. It is crucial here for individuals to consider their career goals as well as investigate the requirements in any of the states where they would like to be licensed as each state has different requirements for both certifications.
Will a Master's Provide a Boost?
According to Monster.com, having a license or designation in accounting provides an employment boost to many individuals. What does this means for a potential Master's degree seeker is a potential boost in employment. CPA exams are only eligible to those with 150 post-undergraduate credit hours, such as a Master's in accounting program would provide. By completing a Master's program and passing a CPA exam, an individual can boost the likelihood they will find employment in an accounting firm.
Is this Career for You?
No two jobs are the same, even when they are similar positions in the same company. Some job positions require an individual that is technically savvy, or one who is a great communicator and people person. Other jobs are perfect for those who don't mind putting their nose to the books and working without much social interaction during the day.
According to Yahoo! Education, accounting positions ranked highly as a position for introverts in the field of business. This is due to the working conditions accountants face. The typical day involves working with computers, analyzing spreadsheets, and pouring over data. Those who don't need social interaction with others in order to enjoy their work will be right at home in accounting.
As with anything in life, individual results will vary. While one accountant might find a Master's beneficial, another may not. It is important to consider these factors and other factors (such as personal and familial responsibilities) when deciding whether or not to pursue a Master's in Accounting.
---
http://career-advice.monster.com/career-development/education-training/cpa-or-cma/article.aspx
http://career-advice.monster.com/career-development/education-training/accounting-education-options/article.aspx
http://education.yahoo.net/articles/careers_for_introverts_2.htm?wid=1004&svkid=HUYV&usid=a7b8c0d1-9498-47d3-8d64-5739efc26470