What Else Can You Do With An M.Ed Degree?
What Else Can You Do With An M.Ed Degree?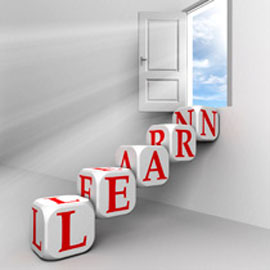 Many current teachers are required to pursue continuing education in order to maintain their teaching credentials. This makes a Master of Education (M.Ed.) degree a popular choice for these professionals. The mandatory requirement to continue one's education* is probably a large factor in making education the most popular field of study for master's degree students in the U.S., according to the National Center for Education Statistics.
However, teaching is currently a somewhat precarious career path, thanks to ongoing education budget shortfalls in many states and cities. This article, presented by American InterContinental University, looks at what other career opportunities an M.Ed. degree holder could be qualified to compete for after graduation.
Corporate Training Consulting
Graduates of an M.Ed. degree program don't necessarily have to focus on teaching children or college students. The skills they develop while earning their degrees can also apply equally well to learners in corporate settings. Corporations often need to train employees on everything from business writing to new software.
Corporate training consulting services may offer pre-packaged courses to businesses or work with them to refine current training courses and processes. Usually, consulting requires a combination of education, and extensive professional experience.
Career Counseling
M. Ed. degree programs with an appropriate specialization may also help graduates prepare to pursue career counseling as a career path. Career counseling involves helping individuals determine their career goals and then pursue appropriate training paths. Additional certification will most likely be required to pursue roles within K-12 school districts and colleges, while independent career consultancies may have different requirements.
School Technology Consulting
People specializing in school technology understand different types of software and hardware available to facilitate learning, and help teachers choose what's appropriate for their students. M.Ed. degree programs that focus on instructional technology can help graduates prepare to pursue career opportunities that involve evaluating, designing, and providing feedback on instructional technology tools.
Education Policy Development
M.Ed. holders may also be in a position, depending on their degree specialization and high-level professional experience, to pursue roles in local, state, or federal government departments that set education policy. With a first-hand understanding of education, policy development specialists can work with politicians to help draft legislation, evaluate the effects of current legislation, and develop budget recommendations for new projects.
Educational Coordination
Museums, aquariums, zoos, planetariums, and similar institutions all have an educational purpose. They make an effort to reach out to the local community to provide entertaining but educational exhibits, lectures, and activity days. As a result, these venues can utilize the skills of education coordinators who are experienced educators and M.Ed. holders.
Educational coordination services may help evaluate how exhibits match with local school curriculum objectives, develop brochures or other educational materials, and decide which guest lectures would be most interesting to a local audience. Educational coordinators may also provide a point of contact for local teachers who want to visit with their students and study a specific part of the collection.
Curriculum Development
Finally, M.Ed. holders with professional experience who focus on curriculum development may have the opportunity to pursue roles establishing new curricula in school districts, at textbook publishers, or within colleges. Curriculum developers may directly create an institution's plan of instruction, consult on the writing of a textbook or perform research into how specific pedagogical methods affect learning.
* Although American InterContinental University's Master of Education degree is not designed to meet state educator licensing requirements, it may assist students in gaining licensure in their state of residence depending on those requirements.
This article is presented by American InterContinental University, a provider of career-focused degree programs. Students can choose to study on-campus or on our Virtual Campus at AIU Online. Find out more at https://www.aiuniv.edu.
---
http://suite101.com/article/careers-with-a-masters-of-education-degree-a292639
http://voices.yahoo.com/jobs-available-those-masters-education-6488404.html
http://nces.ed.gov/programs/digest/d10/tables/dt10_283.asp?referrer=list