Can You Go to College While in the Military?
Can You Go to College While in the Military?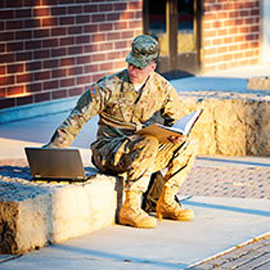 You're in the military and thinking about your future. Whether your goals include advancing within the service or building a career path once you leave, the time is right to begin taking steps to help you get where you want to be. But can you go to college while in the military? Yes, you can, thanks to online programs and military-friendly schools that help active-duty personnel juggle higher education and their service obligation.
You don't have to choose between serving your country and serving yourself by pursuing your education. I should know: I knocked out an entire year of college while deployed overseas as an intelligence analyst in the Army during Operation Joint Endeavor. I kept up with my schoolwork thanks to an online learning program with instructors for whom it didn't matter if I was back home in the U.S. or serving 6,000 miles away in the Balkans. When I couldn't log in, because I was working with a military-supportive school, they gave me leeway to get my assignments in as my mission allowed.
My only regret is I didn't start college earlier in my military career. I could have gotten so much more done during my four-year stint. Still, the work I did finish made a huge difference and gave me a leg up when I left the service.
How to Find a College While in the Military
Online universities make sense for members of the military because they can attend classes anywhere, anytime. But not all programs are created equal. Finding an online degree program built to help servicemembers succeed is essential for active-duty personnel, especially those serving overseas.
Military friendly colleges can also offer these three elements to smooth the path for students going to college while in the military:
1. Flexibility
As long as you have access to the Internet, online programs allow students to make progress toward their degrees. Look for one that offers around-the-clock access to course materials, discussions, lectures, an online library and other resources, as well as 24/7 technical support by email, phone or live chat.
2. Financial Assistance
Don't let your benefits go to waste. Knowledgeable financial aid advisors can help active-duty servicemembers and their families understand their benefits, such as the GI Bill® and Department of Defense programs.
Many institutions also offer reduced tuition rates for active service members, and some offer grants to military and veteran spouses as well.
3. Support Services & Credit
Military friendly schools understand what it's like to serve. With that in mind, they have multiple support services in place to help student soldiers succeed, such as deployment-hold policies that allow students to put their education on hold for the length of their deployment and return when it ends.
Military students and veterans also can earn credit for their knowledge and experience. Look for a university that works with the American Council on Education (ACE) credit evaluation system and also has its own Prior Learning Assessment program. Some universities also evaluate students' prior college credit, CLEP and DANTES exam scores, and any certifications they may already hold to determine which program criteria may have already been met.
Getting Started
Now that you've answered the question of whether you can go to college while in the military, don't wait. Start now. The support and understanding you'll find at military friendly colleges are beyond compare. Maximize your time and the benefits that come with serving. From my personal experience, an education makes all the difference.
Hear a Military Student's Story About Going to School While Deployed
William J. Smith, who recently earned a Bachelor of Criminal Justice degree at American InterContinental University, shares how he pursued a degree online while overseas to help set himself up for success once he left the military.