Paying for College: What Are Educational Alliances?
Paying for College: What Are Educational Alliances?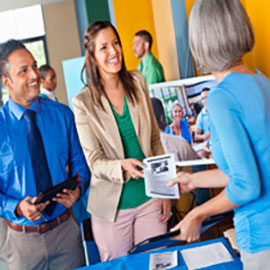 Over the years, many corporations have learned the value of having an educated workforce and actively seek to make paying for college easier for their employees. Why? Recruiting, hiring and training new employees is time consuming and expensive. Training, retaining and developing the workforce you already have can be an effective way help businesses stay competitive.
One way corporations promote education and assist with paying for college is by partnering with colleges and universities to bring specific training and degree programs to their employees at reduced tuition rates. Read on to find out how corporate educational alliances can benefit employees.
Tuition Reduction
Choosing a school your employer is affiliated with may make you eligible for certain tuition grants, scholarships or even reduced overall tuition rates. Simply contact your Human Resources department to learn which schools your company is working with and what programs and tuition benefits each school offers. During AIU's recent Serious Talk Webinar on going back to college after age 30, Phil Olsen, AIU's vice president of financial aid, encouraged working students to check with their employers about educational alliances: "It's a really simple thing to do, and I think that a lot of people, oftentimes, don't consider that their employer may have relationships with schools."
Work-life Balance
Many companies that support educational alliances also allow employees who are pursuing their degrees additional benefits to help them successfully manage college and work. These benefits can include flex time, onsite computer labs, permission to take online classes during work breaks or even during work hours, and time off for school-related events. Ask your HR department or your manager whether any of these options are a possibility at your company.
Visibility
In addition to providing new skills, knowledge and credentials, pursuing a degree can help you look good in front of the bigwigs. It shows you have the drive and determination to move your career and your company forward. Use the additional visibility you get from taking advantage of educational alliances to move your career in the right direction. Ask for high-visibility projects, volunteer for new assignments, and look for opportunities to show your leadership skills.
Specialized Degree Programs
Today's careers are becoming increasingly technical and specialized. Depending on your company and the industry you work in, your educational alliance school may offer specialized degree programs or certificates designed to help you gain the skills and knowledge you need to get ahead. Having in-depth knowledge or a specialized degree could help position you to move in the right direction when the opportunity arises.
Certificate programs
In addition to degree programs, many educational alliances also include certificate programs. Of course, if you want credentials and knowledge, you can't beat a college degree. But if you already have a degree and want specialized knowledge, a certificate program might be a good fit for you.
Spouse and Family Benefits
Educational alliances don't only benefit employees. Some employers offer grants, scholarships, reduced tuition and specialized programs to employees' spouses and immediate family members. The benefits may vary slightly from employee to family member, so be sure to check with your employer to determine whether there are any differences in benefits.
WATCH: Serious Talk Webinar