How to Succeed in An Online Class: AIU Students Share Their Top Time Management Tips
How to Succeed in An Online Class: AIU Students Share Their Top Time Management Tips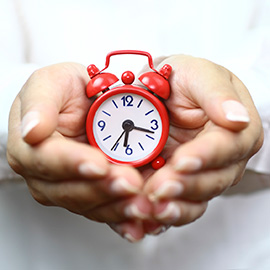 Ask any AIU student or alumni the key to succeeding in an online class, and the majority will likely share the same (seemingly simple) answer: time management.
But what sounds straightforward in theory isn't always so simple in practice. For students juggling the demands of their job and family amid their schoolwork, spare time is often a rare and precious commodity.
Fortunately, our students and alumni are experts at finding creative ways to make sure their work gets done. Read – and heed – the advice they share below:
"Starting early in the week with the reading assignments will allow you time to properly do you assignments. Actively participate in the discussion boards; there may be information you read that can help you research for the assignment."
"Block times for reading, discussion boards and essays."
---
RELATED: Time Management Tips: How to Use An ABC List
---
"Turn EVERYTHING OFF and eliminate distractions! … I had to log out of everything, turn my phone off, and just make the most out of the time I allotted myself to get it all done."
"I start my reading for the week on Friday prior. Then by Monday I have the reading done and intellipath® completed with 90% or greater in each node. Then I am ready to concentrate on my individual project. I arrive at work at 6 a.m. and work on school for two hours before my workday starts. Then I work as I need in the evenings. This goes on from Monday to Thursday. Then Friday starts the next week reading all over again."
"Use the SQ3R [Survey, Question, Read, Recite, Review] study method."
"Make a schedule where certain hours are set aside for school. I have two kids, so I would work on school while they were at school or do homework at night after they went to bed."
"I tend to do my discussion boards on Monday, that way I can comment on others through the week."
What's your best time management tip? Click the quote icon on the top left of this post to share it in the comments.
Interested in more tips on how to succeed in school? Find them on our College Life blog.