What is a Difference Between a B.S. vs. B.A. Degree?
What is a Difference Between a B.S. vs. B.A. Degree?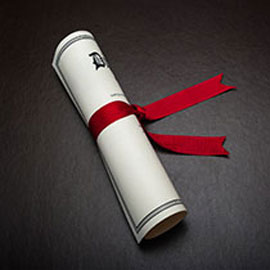 You've made the important decision to pursue a bachelor's degree, but have immediately hit upon your next big question: Should you pursue a B.A. (Bachelor of Arts) degree or a B.S. (Bachelor of Science) degree? Both have equal academic standing and typically take the same number of credits to earn. Read on for answers to typical questions regarding the B.S. vs. B.A. question.
How are B.S. and B.A. the same?
Both a Bachelor of Arts and a Bachelor of Science typically take four years to earn and allow you to add important education and experience to your resume. (Note that some flexible degree programs allow you to earn your bachelor's degree in as little as three years.) Either choice shows you have a commitment to your future, your career, and your family. You also will likely see the time you've spent earning a bachelor's rewarded in your paycheck: The Bureau of Labor Statistics reports that people with a bachelor's degree earn 65% more per week than someone with a high school diploma alone.1
The real difference between these two types of degrees lies in the core coursework required to earn each one.
So what will I study if in a B.A. program?
Typically, a B.A. degree means core coursework that is more well-rounded. Typical core classes when earning a B.A. degree might include study requirements in a selection of liberal arts courses such as literature, humanities, mathematics, history or social sciences. In general, B.A. degrees can be earned in fields such as business, English, art, music, and communications.
What if I choose a B.S.?
A B.S. degree means the coursework has a more technical focus, with less opportunity to take classes in other areas. Bachelor of Science degrees are usually offered in technical and scientific areas such as computer science, nursing, mathematics, biochemistry, and physics.
Typically, B.S. degrees are earned in fields such as engineering, computer science, mathematics, economics, and the natural sciences.
So how do you decide on a B.S. vs. B.A.?
It's important to note that the above examples are only typical. They are certainly not exclusive: Some colleges offer a B.S. in traditionally B.A. fields, and the other way around. Some schools even offer a choice to pursue a B.S. or a B.A. in the same field. The hours needed to graduate are usually the same, so time to completion shouldn't be a consideration when weighing the pros and cons. Instead, what you should consider is your future career goals. Research whether a B.A. or a B.S. is more preferred in your field of choice. Think back on your previous education and what kind of classes you enjoyed. Think also about your future career aspirations and what will better help you reach your goals. Either choice can benefit your future and give you the foundation you need to take your next steps forward.
Ready to learn more? Explore bachelor's degree programs at AIU.
---
1. Bureau of Labor Statistics, U.S. Department of Labor, "Earnings and unemployment rates by educational attainment," on the Internet at http://www.bls.gov/emp/ep_chart_001.htm. Visited on 4/04/15.