The Top Skills You Need for a Career in Accounting
The Top Skills You Need for a Career in Accounting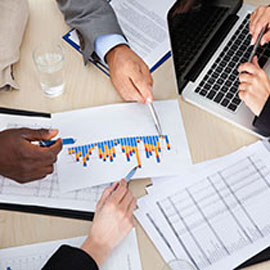 You know you want a career in accounting.
Research shows that it's a great choice. The most in-demand position in the accounting field is—no surprise here—that of an accountant.1 The median pay for someone with that title was $63,550 in 2012, according to the Bureau of Labor Statistics. And the job growth looks healthy, with an anticipated 13 percent growth rate through 2022.2 (There are, of course, other accounting careers to consider as well.)
So you know you want a career in accounting, and you know it's a strong career choice, based on the government numbers. That's a great start.
Now how can you best prepare yourself to enter the job market? The first step is to research and understand what employers are looking for in new hires so you can set effective goals, better craft your resume and know what professional skills to play up during interviews.
Labor market analytics company Burning Glass analyzed 230,000 job postings in 2014 to find out the top professional skills employers seek in new accounting hires. The analysis breaks down the skill sets in greatest demand by both specialized career skills—technical skills required to do the job—and baseline skills, the all-important "soft skills" applicable across industries and job titles.
The top 10 specialized job skills in demand, in order, for jobs with a bachelor's degree in accounting are:
Accounting
Financial reporting
Financial analysis
Generally Accepted Finance Principles (GAAP)
Financial statements
Account reconciliation
Public accounting
General ledger
Business administration
Accounts payable and receivable3
The top 10 baseline skills in greatest demand by employers looking for someone with an accounting degree are:
Microsoft Excel
Communication skills
Organizational skills
Writing
Microsoft office
Research
Budgeting
Detail-oriented
Problem solving
Planning4
Now that you know the skills employers prize in their accounting hires, you can work toward building and developing those skills to best position yourself for future success. Get started by finding entry-level jobs that can help you grow your skill set, find a mentor that can help guide you in crafting and achieving goals, and if you haven't already, enroll in a degree program that can give you the foundation you need to succeed!
Ready to learn more? Explore accounting degrees at AIU.
---
1. Labor/Insight (Burning Glass Technologies), 1/1/14-12/31/14
2. Bureau of Labor Statistics, U.S. Department of Labor, Occupational Outlook Handbook, 2014-15 Edition, Accountants and Auditors, on the Internet at http://www.bls.gov/ooh/business-and-financial/accountants-and-auditors.htm (visited April 07, 2015).
3. Labor/Insight (Burning Glass Technologies), 1/1/14-12/31/14
4. Labor/Insight (Burning Glass Technologies), 1/1/14-12/31/14