20 Reasons Students Are Glad They Went to AIU
20 Reasons Students Are Glad They Went to AIU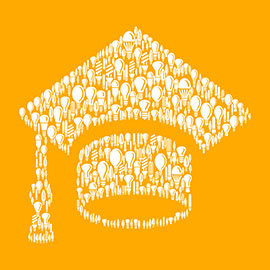 At this time of year, as many of us pause to reflect on our gifts and our gratitude, it seemed a fitting time to ask our Facebook community to share the reasons why they're thankful for their education. The messages we received back were motivating and inspiring, heartwarming and encouraging. They spoke to gaining knowledge and improving skills, of course, but they also talked of opening doors, bettering lives, finding opportunities and turning dreams into reality.
We've pulled out 20 of our favorite responses below to share their thoughts. (If you're interested in reading all of the insightful comments from our students and alumni, you can find them here.)
It helps me challenge myself to grow and be my best self every day.
It shows my son how hard mommy worked to provide for him
I'm attending AIU and they have shown me in one month what no other college has. I can be anything with the right education. I will strive in my career, and keep pushing myself to be better! I'm not just thankful for my education, I'm thankful for AIU!!!
It gave me the foundation in leadership that built the success I live in right now.
It has showed me that I can do anything I put my mind to #ClassOf2016
I am thankful for my education because I have learned that hard work, perseverance, and the support of your family pays off.
I'm thankful for my education because ... it makes me happy to know I'm furthering my future by pursuing my dream career, and becoming a great and better role model for my son!!!
My education allowed me to open my own business, and I am thankful to AIU for my education.
It will help me accomplish my goals and dreams, and it also strengthens my drive.
My Support Team at AIU-Online and my professors.
My MBA from AIU (class of 2013) has complemented my Marine Corps experiences and gave me a solid foundation.
Without my education, I would have never been hired for my current position. I really like the job. I am back to where I wanted to be. Thank you AIU.
It opens up a new door to start another chapter in my life
It lets me know u are never too old to accomplish your goals.
It has been a ticket to travel, move around, be self-sufficient, and give myself a good life. Education is expensive, but no one can ever repossess it.
I already obtained a great position in a great company!
Because it is having a big effect on my life at this point in time but good one
It is helping me to enhance my current career.
It's giving me the opening to a career that has always been my passion.
It gave me the opportunity to prove to myself that I can do anything I put my mind to and accomplish one of my biggest goals.
Here at AIU, we're grateful for our talented, determined, hard-working students and alumni. You are AIU!
Career success will depend largely on the effort put into studies, job search efforts, experience and attitude. The experience of these students/graduates are not representative of all students. These comments are unique and may not represent typical experiences or outcomes for our students/ graduates.