What Can You Do With A Finance Degree?
What Can You Do With A Finance Degree?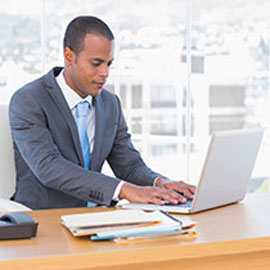 Have you wondered what can you do with a finance degree? If so, it's a great time to consider pursuing education in the field.
What You Can Learn in a Finance Degree Program?
Earning a degree in finance, or a related degree such as a Bachelor of Business Administration with a specialization in finance, can provide you with a strong foundation of business knowledge and practical, industry-related skills, including how to:
Assess and solve issues in a business environment by applying the principles of finance and accounting.
Implement quantitative tools to analyze contemporary business functions and practices.
Recognize the connection between finance concepts and their use in the global markets.
Use current operations and marketing management practices and principles to increase efficiency and productivity.1
Jobs with a Finance Degree
According to a Burning Glass analysis of national jobs data, some of the top finance jobs that call for a bachelor's degree include:
What they do: Financial analysts guide businesses and individuals in making sound investments and are expected to be able to assess the performance of stocks, bonds, and other types of investments. Financial analysts typically have a bachelor's degree; a master's degree is often expected for advanced positions.
Projected growth: 16 percent from 2012 to 2022, faster than average
Median pay: $76,950 as of May 20122
What they do: Accountants and auditors prepare and examine financial records to make sure accurate records are kept and taxes are paid properly. Accountants and auditors are also expected to assess financial operations to make certain organizations are running efficiently. Most accountants are expected to a bachelor's degree. Many accountants also choose to pursue additional certifications such becoming a Certified Public Accountants (CPA), which can improve job prospects in the field.
Projected growth 13 percent from 2012 to 2022
Median pay: $63,550 a year, as of May 20123
What they do: Advise customers on investments, taxes and insurance decisions. Typically financial advisors need at least a bachelor's degree.
Projected growth: 27 percent from 2012 to 2022, faster than average
Median pay: $67,520 a year, as of May 20124
Top Industries for a Finance Degree
Various types of entities employ those with a finance degree, which means you can have plenty of choices about what kind of work to pursue. The top industries looking for people in finance roles with a bachelor's degree are:
Credit intermediation and related activities
Insurance carriers and related activities
Professional, scientific and technical services
Securities, commodity contracts, and other financial investments and related activities5
Top Skills for a Finance Degree
The analysis by Burning Glass pinpointed some of the top specialized finance skills in the greatest demand by employers. They include:
Accounting: The ability to measure an organization's financial information is in high demand.
Financial analysis: Knowing how to read the numbers is one thing, but you must also know what they mean.
Financial reporting: Once you've made your analysis, sharing the information and putting it in context is important.
Account reconciliation: Someone with a finance degree is expected to make sure financial records are accurately kept.
Forecasting: This refers to the ability to analyze historical data, look at current market factors and then predict the financial future for a company or organization.6
Ready to learn more? Explore an online finance degree with AIU.
The presence of specific potential jobs on this list does not guarantee availability of career opportunities. All statistics referenced are national historical averages and the figures in your area and at the time of your job search may be different.
---
1. https://www.aiuniv.edu/degrees/business/bachelors-business-administration-finance-bba
2. Salary and growth data via Bureau of Labor Statistics, U.S. Department of Labor, Occupational Outlook Handbook, 2014-15 Edition, Financial Analysts, on the Internet at http://www.bls.gov/ooh/business-and-financial/financial-analysts.htm (visited 1/12/2015)
3. Salary and growth data via Bureau of Labor Statistics, U.S. Department of Labor, Occupational Outlook Handbook, 2014-15 Edition, Accountants and Auditors, on the Internet at http://www.bls.gov/ooh/business-and-financial/accountants-and-auditors.htm (visited 1/12/2015)
4. Salary and growth data via Bureau of Labor Statistics, U.S. Department of Labor, Occupational Outlook Handbook, 2014-15 Edition, Personal Financial Advisors, on the Internet at http://www.bls.gov/ooh/business-and-financial/personal-financial-advisors.htm (visited 1/8/2015)
5. Labor/Insight (Burning Glass Technologies), 1/1/13-1/31/13
6. Labor/Insight (Burning Glass Technologies), 1/1/13-1/31/13