How Long Does It Take to Get a Master's in Education?
How Long Does It Take to Get a Master's in Education?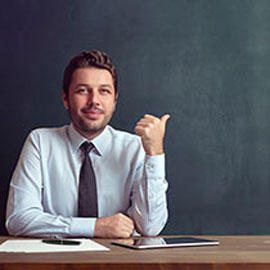 If you're a teacher, it's likely that at some point in your career, you'll consider pursuing a graduate degree in your field. Besides expanding your knowledge in a field you're passionate about, master's degrees can also help position teachers for rank and salary increases. In some states, a higher-level degree is even required to continue teaching. But just how long does it take to get a master's in education?
The answer depends on several factors, including your previous educational background, the university and program you choose, and whether you attend classes full- or part-time. There are various types of master's degrees in education that teachers can pursue. Additionally, today's students have more options when it comes to balancing a busy teaching career and graduate school. While some master's programs can take up to two years to complete, many of today's Master of Education (M.Ed.) programs can be completed in 12 months or less.
Now that you know the answer to the question, "How long does it take to get a master's in education?" it's helpful to know what key criteria to look for as you research which university and M.Ed. program is the best fit for your needs and goals:
A curriculum that caters specifically to current teachers: Don't spend time and money learning what you already know. Look for a graduate education program designed for experienced teachers rather than those without a teaching background. AIU's online M.Ed. takes efficient learning one step further with its intellipath adaptive learning technology, which creates a customized learning path for each student based on what they already know and what they still need to learn.
Flexibility that fits your life: Teachers work long hours in the classroom and take home additional work grading papers and preparing lessons. Finding a flexible program with online, evening and/or weekend classes so you have the options you need to fit your busy schedule.
Experienced faculty: As a teacher yourself, you know great teachers can enhance an education. Look for professors who are industry specialists and who understand the challenges and changes today's teachers face.
University and program-level accreditation: Before enrolling in a master's degree program, make sure that the school and program are accredited. AIU, for example, is regionally accredited by the Higher Learning Commission, and its M.Ed. program was awarded TEAC initial accreditation by the Inquiry Brief Commission of Council for the Accreditation of Educator Preparation (CAEP).
No doubt about it, there's plenty of incentive for teachers to earn their master's degree in education sooner rather than later. It's important to keep in mind that one-year master's degree programs can be comprehensive and challenging. But just like teaching, they can really be worth the extra effort.
Ready to learn more? Explore AIU's M.Ed. programs in elementary and secondary education.
AIU's M.Ed. program does not provide teacher certification.