Types of Master's Degrees in Education
Types of Master's Degrees in Education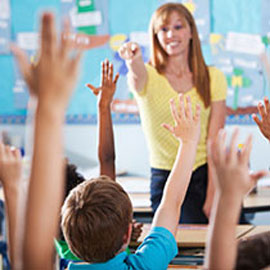 Earning an advanced degree in education can open doors to help you advance on a variety of career paths. However, just as there are multiple professional paths you can take, there are a number of different types of master's degrees in education you can pursue. If you're interested in pursuing graduate-level work in education, understanding the educational choices available to you can clarify which option best meets your career goals and objectives.
Graduate Degrees in Education
There are four main types of master's degrees in education: the Master of Education (M.Ed.), Master of Arts in Education (M.A. Ed.), Master of Science in Education (M.S. Ed.) and Master of Arts in Teaching (M.A.T.).
Dr. Jeannette Jones, University Dean of Education at American Intercontinental University (AIU), says each degree provides value to students based on their career aspirations. The first step in making the right choice, she says, is to research whether a program meets both your career objectives and your local state and organization criteria for what you're looking to accomplish. Some programs are aimed at already-licensed teachers. These professionals may be seeking professional development or working toward a rank increase, which is a common objective for many educators seeking a graduate degree. In teacher preparatory departments, programs may focus on helping students gain their state certification.
What's more, the types of master's degree offered by an institution can depend on how a school designates it internally and for accreditors; a Master of Art in Education in one institution might be designated as a Master of Science in education in another, according to Dr. Jones.
It's also important to keep in mind how you want to focus your studies. Many degree programs include specializations, such as those in primary or secondary education, or in other fields such as instructional design and technology or adult education and training.
A Master's in Education is One of the Most Commonly Sought in the Field
One of the more common options is the Master of Education (M.Ed.). A key difference between this and other master's in education degrees is that it's a good fit for candidates of varied backgrounds. This type of degree is an "applied degree," according to Dr. Jones, meaning graduates can take the skills they learn and practice them in a wide array of industries, not just education. And this degree is a good option for anyone who desires a well-rounded overview of education, from "educational theory and leadership to basic curriculum and design or instructional strategies," says Dr. Jones.
Whether you want to advance in your career as an educator or bridge a gap in your skills as a corporate trainer, this is a beneficial degree to consider. That's particularly true for current educators who want a rank increase, as many M.Ed. programs allow for students to specialize and gain increased expertise in their current teaching specialty as well. As Dr. Jones notes, it's common for an organization or school to ask, "What did you learn in this degree program that's going to enhance your skill set in your current position?"
A Master of Arts in Education Can Develop Your Skills in a Specific Subject
A Master of Arts in Education can provide you with a degree tailored to a specific range of subjects and may be a better fit for enriching your knowledge and expertise in a specific subject. If, for example, you've been teaching a foreign language, says Dr. Jones, you might research M.A. Ed. programs that focus on a humanities certification in that language or a sister language.
Similarly to M.Ed. programs, many colleges, and universities offer a Master of Arts in Education with specializations. However, prospective students should keep in mind that these M.A. Ed. specializations are often different from one university to another; for example, one might offer specializations in science or professional development, while another might offer a specialization in art or dance.
A Master of Science in Education Program May Differ Between Institutions
Generally speaking, a Master of Science in Education, depending on the institution, will typically focus on pedagogy, curriculum methodology and instructional design related to areas such as mathematics and sciences. However, much like a Master of Art in Education, every university will define this program differently, so it's important to research how each institution you're considering structures it. Some institutions might offer a theoretical and research-based curriculum, while others might structure this degree similarly to M.A. Ed., where specializations, such as a Master of Science in Education Administration, are an option.
If you know what your career objectives are, whether it's to enhance your learning in a specific subject area, to increase your skill set in a corporate environment, or to transition from the classroom into an administrator role (such as a principal or superintendent), the best course of action, says AIU's Dr. Jones, is to research those roles to see what kind of education and degree is required for each.
For educators who seek to move into an administrator or principal role, institutions that offer a M.S. Ed. with a specialization in administration, educational leadership in administration, or simply a Master of Education in administration, are typical degree tracks for this role.
Cultivate Your Teaching Skills or Change Careers with a Master of Arts in Teaching
The M.A. in Teaching degree is for the student who wants to gain an expert grasp on teaching and teaching strategies and may be attractive to those who haven't yet earned their initial teacher certification. Many times, this is a hands-on degree, where classroom experience is part of the curriculum.
Elementary and secondary educators who want to excel in applying curriculum, instruction and teaching strategies in their classrooms might seek a Master of Arts in Teaching, though post-secondary teachers and those outside of education might consider it as well.
You may also have not considered that many managerial and organizational methodologies originated from educational theory, says Dr. Jones. So, whether you're an educator, a corporate trainer or even in human resources, pursuing a master's in education can help move your career forward.
Ready to learn more? Explore Master of Education degrees at AIU.