What is a Network Administrator vs. a System Administrator?
What is a Network Administrator vs. a System Administrator?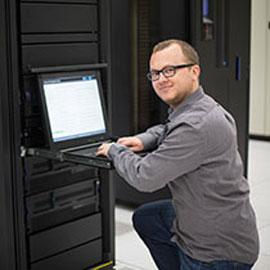 Thinking about a career in IT and unsure of the difference between a network administrator and a system administrator? These two roles may seem to be interchangeable, and at first glance it can be unclear what role each plays in an organization.
Both positions are in demand––the Bureau of Labor and Statistics (BLS) projects job growth for network and computer systems administrators to be 12 percent from 2012 to 2022.1 While there is some overlap in typical job descriptions, there are key differences in areas ranging from responsibilities to certification paths. Knowing these can help you clarify which is a better fit for your interests and career goals.
Network Administrators Focus on Computers Working Together
A network administrator's main responsibilities include installing, configuring and supporting an organization's local area network (LAN), wide area network (WAN), Internet systems or a segment of a network system.2 On-the-job duties such as overseeing network switches, a virtual private network (VPN) and routing are also typical duties.
At the most basic level, the difference between the two roles is that the network administrator oversees the network, or a group of computers connected together, while the system administrator is in charge of the computer system - all the parts that make a computer function.
If you're interested in pursuing a career path in network administration, a bachelor's degree in computer science or information technology or a network administration degree can prepare you with the fundamentals you'll need to start out in IT and in this field. Needless to say, a "considerable amount of training and skill" is required if you want to become a network administrator, notes according to O*Net. For that reason, many professionals in the field hold additional certifications in the field.
So what certifications should you consider pursuing? It depends on your role and the company you work for. To start, the CompTIA A+ certificate provides a vendor-neutral certification in all the fundamental skills needed in the field. But additional, focused vendor-neutral skills are also crucial in the field and at times required. For those pursuing a job as a network administrator, a CompTIA Network+ certificate, which focuses on network-specific skills, as well as a CompTIA Security+ certificate are useful and relevant certifications to pursue. You'll want to research whether the companies and organizations you're interested in run on a Cisco, Microsoft or another system so you can decide what type of vendor-specific certification, like a Cisco or Microsoft certification, is the best route for your career goals.
How is a System Administrator Different?
As noted, rather than a network of computers, a system administrator is responsible for the computer system itself, including software and hardware installation and upkeep, data recovery and backup, setup, and training on user accounts and maintenance of basic security best practices, reports the BLS.
The overlap between roles can start with the local area network, a network that's company-based or includes surrounding buildings. But the smaller the organization, the more likely you'll find a system administrator taking on both system and network responsibilities. For those entering the field, seeking a position in such an organization can offer you exposure to a wide range of experience in both system and network administration. You may find you'll interface with departments and be part of project teams you might not normally be part of in a larger organization. But as an organization grows, roles become more defined, and it's common for a company to hire a team of system and network administrators that likely will work closely together.
Similarly to a network administrator, a basis in information technology or computer science is essential to becoming a system administrator. Likewise, employers often seek candidates with additional certifications. Since most organizations run on some kind of Microsoft or Linux system, certification splits into two paths: Microsoft and Linux (or a variation of Linux, Red Hat) system admin certification. Other certifications, such as a CompTIA certificate, also are a common credential for those working in system administration.
Interested in learning more? Explore online IT degrees in network administration at AIU.
---
1. Bureau of Labor Statistics, U.S. Department of Labor, Occupational Outlook Handbook, 2014-15 Edition, Network and Computer Systems Administrators, on the Internet at http://www.bls.gov/ooh/computer-and-information-technology/network-and-computer-systems-administrators.htm (visited 9/17/15).
2. O*Net Online, Summary Report for Network and Computer Systems Administrators, on the Internet at http://www.onetonline.org/link/summary/15-1142.00 (visited on 9/17/1)