Project Management Jobs: Outlook and Opportunities
Project Management Jobs: Outlook and Opportunities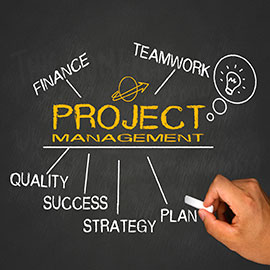 If you're interested in learning about the processes through which products are made, appreciate the value of a well-established plan, and want to work with many people and departments with different areas of expertise within a company, then the field of project management may be a good fit for you. Project management jobs tend to increase with market growth—as project managers are essential to expanding production in many industries—meaning now may be an especially good time for those looking to enter the field. In fact a report published by the Project Management Institute (PMI) in 2013 predicted a 12 percent increase in project management positions over the next few years, resulting in nearly 6.2 million jobs by 2020.1
What do project managers do, exactly, and how do you get into project management as a career path? We cover the basics of the field, some common entry-level jobs, and the value of getting a project management degree below.
What is Project Management?
The PMI defines project management as "the application of knowledge, skills, tools, and techniques to project activities to meet the project requirements."2 Working across multiple industries and in many different types of companies (from production to finance and healthcare), project managers coordinate internal efforts to make sure all projects are completed according to plan and at desired quality standards.
Job duties include ensuring that timelines are met for all projects (both new and ongoing). In order to keep processes running smoothly, a project manager works with various internal teams to set realistic expectations and create reasonable timelines and plans for completion of projects. This may also involve checking in with all departments involved to make sure they have the resources needed to complete the project. In many cases, project managers are also tasked with helping a company increase and maintain efficiency, sometimes in response to new market or production challenges.
Common industries/organizations with jobs in project management include:2
Finance
Construction
Healthcare
Insurance
Internet and Technology
Engineering and Manufacturing
Common Entry-Level Project Management Jobs
Because project managers deal with process planning, sometimes getting input from multiple departments, they don't necessarily need to be subject-matter experts. This means there are often a wide variety of opportunities for those looking to get into the project management field. Some common entry-level positions may include:3
Project Coordinator
Assistant/Junior Project Manager
Project Analyst
Project Control Specialist
Work Process Manager
Project Lead
Should You Get a Project Management Degree?
While educational requirements will vary by industry, company, and position, the PMI requires at minimum some kind of secondary degree for most of their project management certifications. Additionally, a project management degree (often offered within a business administration program) can offer well-rounded instruction in workflow and management strategies, creative problem solving techniques, budgeting, resource management, and other skills needed to oversee complex projects in an organization.
Some project managers move into their roles after working for a few years in other entry-level positions in a company, but a degree may offer students an opportunity to develop management skills ahead of actual work experience. By working with project management tools like Gantt Charts and learning about CPM and PERT techniques, students with a degree have a chance to develop highly useful on-the-job skills before entering the workforce. You will still want to look into the various professional certifications available when considering advanced positions, but for those who want to enter the project management field as soon as possible, a degree can be great preparation.
Ready to learn more? Explore project management degrees at AIU.
---
1. Project Management Institute, "2015 Global Job Report," on the Internet at https://www.pmi.org/learning/PM-Network/2015/global-job-report-salary-data.aspx (visited on January 9, 2016).
2. Project Management Institute, "What is Project Management?" on the Internet at http://www.pmi.org/About-Us/About-Us-What-is-Project-Management.aspx (visited on January 9, 2016).
3. Project Management Institute, "Career Paths for the Entry-Level Project Manager," on the internet at https://www.pmi.org/learning/professional-development/career-central/Career-Paths-for-the-Entry-Level-Project-Manager.aspx (visited on January 9, 2016).