AIU Announces 2016 Graduation Speaker, Events
AIU Announces 2016 Graduation Speaker, Events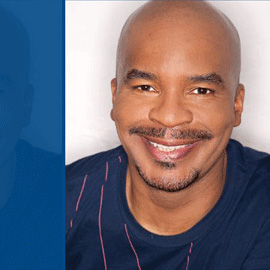 AIU is pleased to announce that acclaimed actor and comedian David Alan Grier will serve as this year's featured graduation speaker at the university's 2016 commencement ceremony on June 24 in Atlanta. Grier, a Tony and Grammy Award-nominated performer and a graduate of the Yale School of Drama, will share insights and inspiration on how his own education has influenced his life and ever-evolving career.
The commencement ceremony will take place at the Georgia World Congress Center. Start time for the ceremony will be announced in the coming weeks. No tickets are required; this is an open-seating event.
For the first time, AIU also will expand the celebration with an extended schedule of pre-ceremony events to take place Thursday, June 23:
A VIP brunch will honor those who achieved a 4.0 CGPA and all active-duty and veteran graduates. Guests of the graduates are welcome to join and share the experience. AIU presidents, faculty and staff will also be in attendance to celebrate the special recognition. The event will take place at the Omni Atlanta Hotel at CNN Center from 10:30 a.m. to noon EST. See more details and register here.
Author and marketing strategist Joshua Waldman will host a career-development seminar, "Job Searching and Social Media," aimed at helping the new graduates leverage social media tools to aid them in advancing their careers. Also at the Omni Atlanta, the seminar runs from 1 to 2 p.m. EST. See more details and register here.
The evening concludes with an alumni celebration from 6 p.m. to 9 p.m. (EST) at the Hard Rock Café Atlanta. See more details and register here.
Graduates and guests interested in hotel accommodations can leverage a special discounted rate at the Omni Atlanta Hotel for June 23 and 24. For registration and pricing information, please call 1-800-THE-OMNI and ask for the AIU Online block of rooms. Reservations will be accepted through June 2, 2016.
If you're eligible to walk in the Atlanta ceremony and have not yet registered, please click here to register. Standard registration closes on Friday, May 6. Registration is accepted until Friday, May 27, with a $20 late fee applied to expedite regalia.
Congratulations to all of the upcoming graduates!