The 4 Major Types of Accounting Careers and Requirements
The 4 Major Types of Accounting Careers and Requirements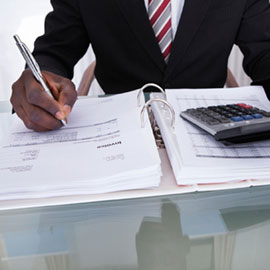 Accounting is a broad and complex field, and thanks to advanced calculation software, many of today's accountants are taking more significant and complicated roles within businesses and institutions. From more general public accounting to forensic accounting and internal auditing positions, there are many types of accounting careers open to today's graduates. While all of these positions still require a detail-oriented, analytic mindset and strong math and financial skills, there are some important differences to consider before deciding which accounting career may be right for you.
Below, we cover some of the major types of accounting careers, the primary skill sets and responsibilities involved in each and what degrees and certifications you may need.
Management Accounting
Sometimes called "corporate accountants," management accounting involves working with a company's financial records to ensure proper ongoing operations. This typically includes managing payroll and other financial assets, in addition to sometimes assisting to set budgets and performing cost analyses to help determine profitability. Management accountants must keep careful records of accounts payable and receivable, as well as monitor all incoming and outgoing transactions. This is an internal position, meaning you will work with a company's financial team and upper management and may be tasked with presenting yearly or quarterly data for financial analysis and planning.1,2
Degrees and Certifications
Typically, a BA in accounting is the preferred degree for management accountants, though students may opt for a concentration in business as well. Those with a bachelor's degree and at least two years of management accounting or financial management experience can apply for certification from the Institute of Management Accountants (IMA). While this certification is not required for a job in corporate accounting, certified management accountants (CMA) have been found to make higher median salaries than non-CMAs.3
Public Accounting
Where management accountants work internally monitoring the long-term health of a company, public accountants typically work with a number of clients on private financial matters. This can include working as part of a larger accounting firm or starting one's own private practice, and while some public accountants specialize in representing businesses, others work primarily with individuals. Much of a public accountant's work involves preparing legally-required financial documents (such as those completed during an audit or when filing taxes) and staying updated on the latest financial and tax laws—however, in some cases, one may offer financial consulting and other services.2
Degrees and Certifications
Like management accountants, public accountants need a bachelor's degree in accounting or a closely related field. Many choose to pursue licensure as a certified public accountant (CPA) after two or more years of work experience. This can open up additional employment opportunities and is required for any position that involves filing documents with the Securities and Exchange Commission (SEC). Becoming a CPA requires both passing the four-part Uniform CPA Examination administered by the AICPA, and then applying for a license from the appropriate state's Board of Accountancy.2
Internal Auditing
Internal auditors are accountants who work within a company or organization to help monitor efficiency and recommend changes when necessary. Because an auditor's role is primarily to assess a company's financial health and find possible opportunities for improvement or concern, they don't deal with logging data and maintaining records in the same way management accountants do. Instead, internal auditors review these financial records and any other available data, and then communicate their findings to upper management. They may also be tasked with a more specific set of responsibilities, like reviewing documents for regulatory compliance or conducting a risk assessment.1
Degrees and Certifications
While some colleges and universities may offer a specialized degree in internal auditing, it's also possible to pursue this career path with a BA in accounting.2 The Institute of Internal Auditors (IIA) offers a Certified Internal Auditor (CIA) designation for those who complete their three-part exam. The IIA also offers four specialty certifications for those who do not yet qualify to take the CIA exam.4
Forensic Accounting
Forensic accounting involves investigating financial records and other available accounting data after a crime has taken place. Forensic accountants work to piece together what exactly happened and how a crime—such as fraud, theft, or embezzlement—may have been carried out. Because of their more investigative role, they must be able to clearly and accurately reconstruct financial records that have been falsified or tampered with, as well as help authorities with any cases or legal proceedings relating to the crime.5
Degrees and Certifications
Few programs offer degrees specifically in forensic accounting, but coursework or a concentration in criminal justice can be beneficial. There are also a number of relevant certifications available, depending on the specific area of focus one wants to pursue. The Certified Forensic Accountant (Cr.FA) and Certified in Financial Forensics (CFF) designations are offered to existing CPAs who wish to specialize in forensic accounting, and are offered by the American Board of Forensic Accounting and the AICPA, respectively. The Association of Certified Fraud Examiners offers the CFE certification, which does not require applicants to be currently licensed CPAs, but does require at least 2 years of prior professional experience.
Ready to learn more? Explore online accounting degrees at AIU.
---
1. Accounting.com, "Common Career Paths for Accounting Majors," on the Internet at http://www.accounting.com/degrees/bachelors/ (visited April 10, 2016).
2. Bureau of Labor Statistics, U.S. Department of Labor, Occupational Outlook Handbook, 2016-17 Edition, "Accountants and Auditors," on the Internet at http://www.bls.gov/ooh/business-and-financial/accountants-and-auditors.htm (visited April 11, 2016).
3. Institute of Management Accountants, "IMA Global Salary Survey," on the Internet at http://www.imanet.org/resources-publications/thought-leadership-new/salary-survey (visited April 11, 2016).
4. The Institute of Internal Auditors, "Six Steps to Certification," on the Internet at https://na.theiia.org/certification/new/Pages/Six-Steps-to-Certification.aspx (visited April 10, 2016).
5. American Board of Forensic Accounting, "Questions About Forensic Accounting," on the Internet at http://certfa.org/questions-about-certified-forensic-accounting/ (visited April 10, 2016).