5 Facts to Know About Working for Amazon: AIU's Employer Information Session Series
5 Facts to Know About Working for Amazon: AIU's Employer Information Session Series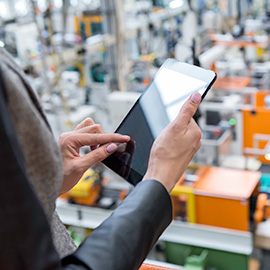 Amazon is a household name in today's society. The Seattle-based online retailer and cloud computing company is highly recognized and well established, so it's no wonder that in addition to being a popular shopping destination and business partner, the company is an in-demand employer as well.
To help AIU students and alumni better understand the ins and outs of applying for a position at Amazon, our Employer Services team recently hosted Amazon Military Recruiter Charles Hulka and Operations Recruiter Tori Clements in a webinar about Amazon and its employment opportunities. While all organizations are unique, those attending learned that Amazon is cut from a different cloth—all the way from their application process to their work environment—and it's imperative for applicants to go in with their eyes open wide.
Charles Hulka and Tori Clements shared these five key points that those considering applying for a job with Amazon should keep in mind:
1. You MUST be open to relocation.
The recruiters could not stress this point enough. Even when looking through Amazon's open positions, they said, don't be swayed by the job's location. That's not a guaranteed location at all—rather, recruiters are required to assign a location to simply post a job. If there is only one state you want to work in, chances are high you may not be able to get that location. Applicants should have five to 10 states to which they are willing to relocate (the company does fund relocation support for some roles). While Amazon will try to accommodate applicants' preferred destinations, there's no guarantee. The bottom line is that if you want to make it through the initial part of the application process with Amazon, check the box that says "Yes" to "Are you willing to relocate if needed?" and mean it.
2. A bachelor's degree is required.
Operation Management jobs with Amazon require a bachelor's degree. However, that doesn't mean you can't interview or apply for a job. If you are within one to three months of graduating with your bachelor's degree, you can still go ahead and apply. If you pass the application and interview process and receive an offer, they'll be inclined to hold the job for you until you have that diploma in your hand; however, they cannot hold specific locations. It all depends on the site's availability and how quickly they need a hire.
3. This isn't your father's interview.
Far from it! Amazon is one of the country's biggest employers, with 180,000 U.S.-based workers in 2016. As such, there are many open positions and many job seekers interested in joining the team. To ensure each employee is a solid match for the organization, the most basic application process includes the following:
You submit your application. To have the best chance of being noticed, make sure your resume is catered to the specific job description. A "catch-all" resume will easily be passed by if it doesn't directly address the job's qualifications
You take a virtual job assessment that helps determine if you are a good fit for the job (your professional background, your schedule availability, what is expected of you in the role, etc.).
If you pass the assessment, you either 1) do a phone screening with a recruiter, or 2) have a webcam interview where your video recording is sent to a hiring manager.
If you pass the screening/webcam interview, you are flown out for an onsite interview event (these are held across the country). You will likely interview with three to four leaders from the area in which you are applying to work, as well as a Human Resources leader.
If you are inclined for hire after the in-person interview, they'll make you an offer and conduct a background check (offers are contingent upon site and relocation availability/preference). If you are not inclined after the interview you will still receive a call from a recruiter to answer any questions you may have. Specific feedback from the interviews cannot be disclosed.
And that is the standard application and interview process.
4. Amazon is fast-paced.
If you thrive in a stable 9-5 environment, it's very likely that you may not mesh well with Amazon. The company is constantly evolving. The pace is fast, the volume is high, staff are hired quickly, and new ideas are bouncing around and getting implemented frequently.
5. Amazon prides itself on employees' growth.
Both recruiters emphasized how Amazon embraces people being themselves and exploring their own talents to grow in the company. The rigorous application and interview process is structured to help ensure that employees can excel in their position. Amazon's own website says that they offer their fulfillment center associates up to $5,000 to quit once a year. Why? "We're upfront with employees that we hope they don't take the offer, but we want to give them a chance to think about what they really want. If they want to pursue a different career, we want to support that." So that's one you've probably never heard before.
From the thousands of organizations you can apply to, it's important to do your research beforehand to see if the work environment is a good match. If Amazon sounds like your missing puzzle piece, you can learn more about opportunities at Amazon by visiting our AIU Employer Network.
This Employer Information Session with Amazon was held on Feb. 2, 2017. If you have any questions about this event or future events, please contact EmployerServices@aiuniv.edu.