Focused
From our powerful, specialized curriculum to our faculty of industry specialists who teach them, our degrees focus on the subjects you, and employers, care about.
Adaptable
As employer needs evolve, we adjust our programs to help provide you with the skills to stay competitive.
Responsible
When you believe in us as a school, we believe in you by providing you with the best educational experience we can.
Accredited
We think we set a high education bar. Turns out the Higher Learning Commission and others agree since we either met or exceeded all of their accreditation standards for academic offerings, governance and more.
Watch and get inspired!
Welcome to AIU! You've committed to pursuing your degree, and we're ready to help you. Get the boost you need to keep moving forward with some inspiration from AIU alumni Lori, Ramon and Amanda.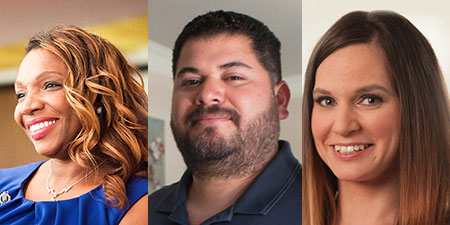 A Mission That Makes a Statement
A goal isn't an end, but where our journey with every student is a beginning. First we get to know, understand and respect your current situation. Then we provide the tools that help you grow into your future self.
Our mission is ambitious. But it's one that helps make every student's time at AIU worth their while.
Featured Content
In military service, stressful situations are part of the job. Try these stress management tips from two veteran alumni who've been there.
Read more →
Developed by AIU and Le Cordon Bleu North America, the Le Cordon Bleu® Hospitality Management specialization combines the best of both worlds — a business degree that is designed to provide an education in core business foundations and development of competencies applicable in a hospitality management setting.
Read more →
The updated AIU mobile app provides anytime, anywhere access to the virtual classroom, e-textbooks, grades and more via Apple iOS and Android phones and tablets.
Read more →