More Reasons to Choose AIU
Variety of Degree Options
From Business to Information Technology, we have several degree programs to get you on your educational journey.
Flexible Learning Options
On campus or online — you choose. We have campuses in Houston and Atlanta. Or if you prefer, you can take classes for most programs 100 percent online or even use the AIU Mobile App. It's an education on your terms. Learn anytime, anywhere.
Accredited Institution
AIU is accredited by the Higher Learning Commission (www.hlcommission.org), a regional accreditation agency recognized by the U.S. Department of Education.
Whether you choose to pursue a bachelor's or master's degree, AIU will be there to support you as you move toward graduation.
Take the
next step.
Classes start
August 26, 2020!
Complete this form and an AIU Admissions Advisor will contact you and provide further assistance.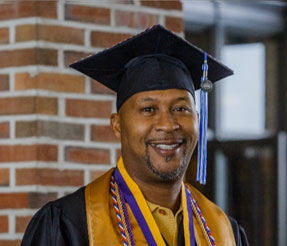 "The online option attracted me to AIU. The online atmosphere was great. AIU provided the tools and all the different resources to help me be successful in my degree."
- Anthony Wheatley
MBA 2018
BBA 2015
Featured Content
In military service, stressful situations are part of the job. Try these stress management tips from two veteran alumni who've been there.
Read more →
Developed by AIU and Le Cordon Bleu North America, the Le Cordon Bleu® Hospitality Management specialization combines the best of both worlds — a business degree that is designed to provide an education in core business foundations and development of competencies applicable in a hospitality management setting.
Read more →
The updated AIU mobile app provides anytime, anywhere access to the virtual classroom, e-textbooks, grades and more via Apple iOS and Android phones and tablets.
Read more →
Trident at AIU: A History of Excellence and Leadership
Established in 1998, Trident was headquartered in Cypress, California and was the first 100% online university to gain regional accreditation from WSCUC. In 2020, Trident was acquired by American InterContinental University, headquartered in Chandler, Arizona and is regionally accredited by the Higher Learning Commission (hlcommission.org).
Trident has a specially designed unique learning model in online education. Trident is also alma mater to nearly 27,000 military, veteran and adult learners, which showcases its ability to cater to the needs of students with diverse professional backgrounds.
Whether active duty military and their families or civilians, Trident students share a desire to excel and make a difference in the world by taking their education to the next level.