The business world moves fast. Prepare yourself to keep up.
Step up and Save up to 25% on Your Master's Degree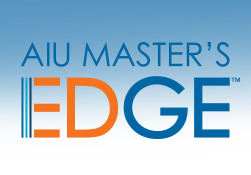 It takes industry experts to help you become one.
Your teachers at AIU aren't just in business, they're helping lead it. Much of the knowledge you'll gain in the classroom comes from their years of experience on the job.
AIU One-Year Online MBA Program
Move forward with AIU's one-year online MBA program. Designed with 24/7 flexibility for busy professionals, this accredited MBA program can be completed in less than 12 months.
Watch Amanda's AIU Success Story and Get Inspired
She left college to raise her kids and struggled to make ends meet as a single mom. Then, a friend recommended AIU. Meet Amanda Schmeichel and she what she has to say about AIU.
"If I wouldn't have gotten my education, I'd still be stuck at the point where I couldn't progress any further. I would still be stuck there wondering if there was a way out."