Our online graduate program in education can help candidates work to develop foundational knowledge of learning theory, instructional technology, and the application of quantitative and qualitative research methods, as well as other core concepts that can be applied in real-world teaching environments. Candidates pursuing a Master's in Education online at AIU can choose to focus their studies in one of six career-focused specializations, ranging from elementary education to adult education and training.1
Accreditations and Affiliations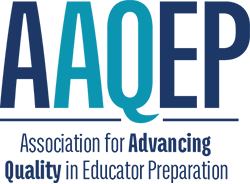 American InterContinental University is a member in good standing of the Association for Advancing Quality in Educator Preparation (AAQEP). The Master of Education program has been awarded full accreditation by AAQEP through June 30, 2026.
AIU is a proud member of the American Association of Colleges for Teacher Education (AACTE), a leading voice on educator preparation. AACTE represents postsecondary institutions with educator preparation programs dedicated to high-quality, evidence-based preparation that assures educators are ready to teach all learners.
Take the next step. Classes Start July 20, 2022
Complete this form and an AIU Admissions Advisor will contact you and provide further assistance.
AIU's Online Master's Degree in Education Program Benefits
Candidates may be able to transfer-in up to 12 credits that can be applied toward their degree2
Our intellipath® adaptive learning tool allows you to personalize your learning plan and skip what you already know, so that you can focus more on what you don't. You can even retake exams to improve your grade.
Convenient and flexible online learning courses offer options designed to work around a busy schedule and allow you to read, listen to, or watch customized course content from any web-enabled device.
Our accredited online master's degree programs can be completed in one year.
Technical support is available 24/7 via phone, email, or live chat.
Our staff of professional librarians is here to help when you need it, and our online library provides access to articles, books, websites, and additional resources you may need as you complete your online master's degree program.
Tuition and graduation date calculator can provide an estimate of the cost to complete your master's online at AIU based on the information you provide.
Which M.Ed. Specialization Is Right for You?
Candidates pursuing their Master of Education (M.Ed.) at AIU have the option to choose one of six specializations, making it possible to focus your studies on what interests you and aligns most with your desired career or academic path. Further, although our online Master's in Education program has not been developed to necessarily meet requirements for state educator licensing or advancement, it may assist candidates in gaining these approvals in their state of residence.1
Online Learning Designed to Fit a Busy Life
Customized Course Content
Choose whether to read, listen or watch, depending on how you learn best.
Discussion Boards & Live Chat
Connect with your faculty and other students.
Ongoing Technical Support
Get help whenever you need it, by phone, email or live chat.
Watch Lori's AIU Success Story and Get Inspired
She didn't let a cancer diagnosis, a divorce or the demands of her job stop her from achieving her goal of earning her master's degree. Meet Lori Wilcox and she what she says about AIU.
"The attitude at AIU was, "This person is going to be successful. ... By any means necessary we're going to make sure they're successful as long as they are willing to put the work in."
Learn from Experienced Professionals
With diverse backgrounds and professional experiences, AIU's faculty bring everyday applications directly into their coursework so you can work to build the solution-based skills to help you prepare for your career path.
Class sizes are designed to be a collaborative, focused effort led by instructors who have real-world experience in the fields they teach.
Pursuing an advanced education degree typically means you've committed yourself to improving and expanding the ways you can serve students. Read more
There are many reasons you may pursue a graduate-level education degree, and choosing the right specialization can help narrow the focus of your program to your unique career goals. Read more
American InterContinental University's Master of Education degree is not designed to meet state educator licensing or advancement requirements; however, it may assist candidates in gaining these approvals in their state of residence depending on those requirements. Contact the state board of education in the applicable state(s) for details.