AIU's One-Year Online MBA Benefits
Our one-year online MBA program lets you study anywhere, anytime. Convenient and flexible online courses can be taken as your busy schedule permits and allow you the freedom to read, listen to, or watch customized course content from any web-enabled device, which could help you pursue your MBA in one year while balancing a full-time career and busy life. Certain students may even be able to receive course credit for qualifying work experience or transfer up to 12 credits toward their graduate degree.1 And with AIU's tuition and graduation calculator, you can see a general estimate of how much it could cost to complete the one-year online MBA program based on the information you provide. We offer a wide range of practical and accessible support for those enrolled in our one-year online MBA program, including:
intellipath®— To assist you in earning your online MBA degree in one year or less, this personalized learning platform helps support student success by allowing you to skip what you already know and get support where you need it most. You can also retake tests to improve your overall grade.
Career Services — Online resources and tools available to help keep you up-to-date on industry employment trends, provide job search strategies, resume writing, interview workshops, and networking opportunities.
Technical Support — AIU offers 24/7 tech support, whether it's by phone, email or live chat.
Online Library — Our 1-year MBA program provides online library access to carefully selected articles, books, and websites that can help you find what you're looking for. Also, research guides and tutorials, APA resources, even a staff of professional librarians available to assist you.
Learn from Knowledgeable Faculty
At AIU, you can study with knowledgeable faculty who bring their experience into the online classroom and work with you when you need it. Because many of our instructors work in the field they teach, you can have the opportunity to discover what's happening in the real business world.
One-Year Online MBA Admission Requirements
Applicants to AIU's 1-year online MBA program must have earned a bachelor's degree from an accredited U.S. institution or from an internationally recognized foreign institution with a minimum undergraduate GPA of 2.0. College transcripts will be verified prior to acceptance as part of the application review process. No GMAT and no GRE are necessary. AIU's one-year MBA is a 48-credit program. If you have job education or military experience,1 you may qualify for education credit to be applied to your degree. Applicants should investigate whether they may qualify.
We've compiled a handy list of frequently asked general admissions questions for prospective students. If you can't find the answer to a question here, you can reach out to an Admissions Advisor for additional support.
Accreditation
AIU's online MBA program is accredited by the Accreditation Council for Business Schools and Programs (ACBSP). Our accredited, 1-year MBA degree program has been ranked on U.S. News & World Report's Best Online MBA Programs list for three consecutive years (2017–19).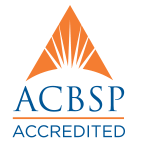 Earn Your Online MBA Faster
Certain students may qualify to transfer graduate-level credits from other institutions and apply those credits to AIU's one-year online MBA program. AIU also offers credit for prior learning and credit for life/work experience, which can allow certain qualified applicants to receive credit for learning that has been acquired outside of the classroom, such as through work experience, military experience, or even relevant life experience.1
Tuition and Fees
AIU's one-year online MBA program may cost less than you may think. You might even be able to save additional time and money by receiving credit for qualifying life and work experience.1 Upon notification of acceptance, students should investigate whether they may qualify for financial aid. Use our tuition and graduation calculator to help estimate your one-year online MBA tuition cost and graduation date.
Why Choose AIU's One-Year Online MBA
Whatever your personal obligations or aspirations, the flexibility of AIU's 1-year online MBA can help make achieving your educational goals more within reach. And just because you don't physically set foot in a classroom doesn't mean you're on your own. Our faculty are here to provide guidance when needed to all students enrolled in our 1-year MBA program's online classes, and our virtual career services resources and tools are designed to help answer your questions and provide assistance, such as resume and interview guidance, as you pursue your desired career path. Choosing to earn your MBA is a big decision, and AIU's support network is here to make sure you have the resources and information you need to complete your MBA and help you make the most of your learning experience.
In-Depth Specializations
Great minds don't think alike. That's why at AIU, we think it's important to provide a wide variety of specializations designed to fit your experience, passions, and interests. AIU's business-focused one-year online MBA specializations allow you take more courses in your field of interest. We offer the in-depth knowledge and skills you want to move your education forward in these areas of specialization:
Accounting
Finance
Healthcare Management
Human Resource Management
Management
Marketing
Operations Management
Project Management
Technology Management
Explore one of these options or contact AIU using the form below to learn more about our one-year online MBA program.
---
1. Transfer credit is evaluated on an individual basis. Not all credits are eligible to transfer. See the University Catalog for transfer credit policies.
Take the next step. Classes Start January 10, 2024
Complete this form and an AIU Admissions Advisor will contact you and provide further assistance.