Online Finance Degree Program Details
Estimate Tuition and Grad Date

Total tuition for this degree program may vary depending on your educational needs, existing experience, and other factors.

Estimate your costs, potential savings and graduation date.

Online Bachelor's Degree in Finance

Pursue a bachelor of business with a specialization in finance online with American InterContinental University and you can access coursework anywhere, anytime. Our online finance degree curriculum was designed to fit into your busy work and family schedule so you can learn at your own pace.

What could you learn in an online bachelor's degree program in finance?

AIU's bachelor's of finance online degree program was designed for busy adults who are looking for a robust understanding of environmental factors and the contemporary business landscape; best practices to analyze business functions and improve operations; and how to increase efficiency, productivity, and profit.

Only study what you still need to learn with AIU's intellipath®. Our innovative learning platform tailors your coursework to you, so you don't invest time studying what you already know.

Prerequisite to enroll in online finance courses?

There are no prerequisites to enroll in AIU's online finance classes and the ACBSP-accredited degree program. We also do not require SAT scores.

Our flexible online finance classes are designed with busy people in mind, so you can pursue your education at your convenience while still tending to other responsibilities.

AIU honors relevant prior work and military experience by offering degree credit for eligible on-the-job education. You may also transfer in up to 75% of the eligible credits needed toward your degree from other universities, which could save you time and money*.

We provide you with personalized support available at every step of your education journey with a dedicated Graduation Team to help demystify the enrollment process and to help you with your education goals.

Download program detail PDF

Finance Courses

Degree Requirements

General Education

| | | |
| --- | --- | --- |
| ECON220 | Microeconomics | 4.5 |
| ECON224 | Macroeconomics | 4.5 |
| ENGL106 | English Composition I | 4.5 |
| ENGL107 | English Composition II | 4.5 |
| MATH125 | General College Mathematics | 4.5 |
| UNIV103 | Academic and Professional Success | 4.5 |
| UNIV106 | Technology and Information Literacy | 4.5 |
| UNIV109 | Interpersonal Communication | 4.5 |
| | General Education Elective (1 Course) | 4.5 |
| | Humanities (2 Courses) | 9 |
| | Natural Sciences (2 Courses) | 9 |
| | Total Credit Hours: | 58.5 |

Core

| | | |
| --- | --- | --- |
| ACCT205 | Principles of Accounting I | 4.5 |
| ACCT310 | Managerial Accounting | 4.5 |
| BUSN105 | Introduction to Business | 4.5 |
| BUSN311 | Quantitative Methods and Analysis | 4.5 |
| BUSN150 | Legal and Ethical Environment of Business | 4.5 |
| FINA310 | Financial Management | 4.5 |
| MGMT305 | Management Information Systems | 4.5 |
| MGMT310 | Management and Leadership of Organizations | 4.5 |
| MGMT315 | Survey of Human Resource Management | 4.5 |
| MGMT499 | Program Capstone | 4.5 |
| MKTG205 | Principles of Marketing | 4.5 |
| | Total Credit Hours: | 49.5 |

General Electives

A combination of 11 electives dependent on Program

Students enrolled in the Fashion Marketing Specialization Option are required to take: FASH 212, Historical and Contextual Studies, in place of HUMA 215 Topics in Cultural Studies; and FASH 209, Fashion Cycle, in place of one General Elective.

General Business Administration Track

In lieu of a Specialization, select 5 Business Electives from any of the Specializations below

Finance

FINA315
Financial Instruments
4.5
FINA330
Asset and Debt Management
4.5
FINA412
Risk Management
4.5
FINA425
Budgeting
4.5
FINA435
Financial Analysis
4.5

Total Credit Hours : 180

AIU's Bachelor of Business Administration (BBA), with all its specializations, is programmatically accredited by the Accreditation Council for Business Schools and Programs (ACBSP).

Finance Classes Overview

For an Online Finance Degree in Business, your classes may include:

Financial Instruments

The course will examine each of the securities markets, the instruments available in these markets and putting the different investments into perspective. The course will introduce the students to the characteristics of the major investors and the terminology used in the securities markets.

Capital Planning

This course focuses on financial management techniques related to capital expenditure and investment decision making. Topics include short-term and strategic implications of capital expenditure decisions, developing an integrated approach to capital expenditure decision-making process on sound concepts and their managerial implications.

Budgeting

This course is designed to provide students with the fundamental understanding of budgeting, budgeting process and also includes a practical guide for preparing financial budgets.

Funds Acquisition

This course examines the alternatives available to management in acquiring funds and related costs and risks. Topics include matching projects with funds acquired, assessing risk of projects with funds, and developing strategies on acquiring funds.

Asset and Debt Management

The course will examine details of managing client's assets including allocation, selection and management in a tax and estate in efficient manner.

Investment

This course focuses on securities and securities markets. Topics include analysis of various categories of corporate securities, public securities, and other investments, types of risks and taxes that affect investment policy timing, selection and investment values.

Still not sure which specialization is right for you?

If you want the opportunity to enhance your business management and leadership skills consider these specializations:

Course content subject to change.

Ways to Save on Your Online Finance Degree in Business

Accreditation

This business program is programmatically accredited by the Accreditation Council for Business Schools and Programs (ACBSP).
Take the
next step.
Classes start
October 30, 2019!
Complete this form and an AIU Admissions Advisor will contact you and provide further assistance.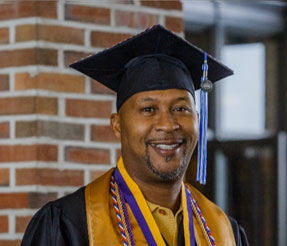 "The online option attracted me to AIU. The online atmosphere was great. AIU provided the tools and all the different resources to help me be successful in my degree."
- Anthony Wheatley
MBA 2018
BBA 2015