Join us for AIU's Commencement Ceremony
The faculty, staff, and administration of American InterContinental University welcome you to join us at AIU's Commencement Ceremony on Friday, July 21st, 2023 in Atlanta GA! This celebrated occasion will be held in the Georgia Ballroom at the Georgia World Congress Center located at 285 Andrew Young International Blvd NW, Atlanta, GA, 30313.
Where?
Check back in 2024
Why?
To celebrate our graduates!
Our Commencements In Action
Who is eligible to walk in the ceremony?
Any AIU graduate, from any campus, who meets the following criteria is eligible to register:
Completed a Certificate, Associate, Bachelor's or Master's program any time in 2023 (including students expected to graduate by December 31, 2023).
Specific questions about eligibility, please reach out to your Advisor or AIUGraduation@aiuniv.edu.
Do I need to register to attend the Commencement Ceremony?
Yes. Graduates must register to be included in the Commencement Ceremony, and registration will open in the coming weeks. Information about how and where to register will be sent to all eligible students and graduates, and posted here, once registration is opened.
(Grads that do not RSVP will not be recognized in the printed ceremony booklet, or have space reserved at the ceremony.)
Don't Forget Your Regalia!
The official AIU cap and gown must be worn to ensure uniformity among graduates.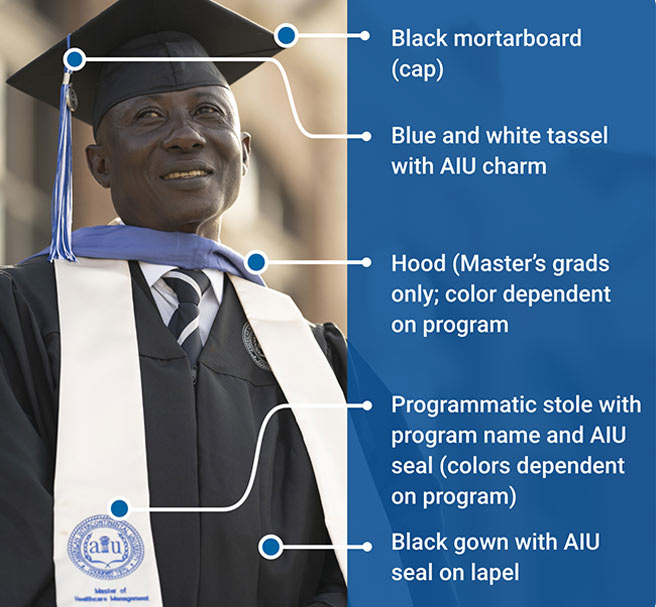 The parts of the AIU regalia for commencement ceremony. The black mortarboard (cap). The blue and white tassel with AIU charm. The hood is for Master's grad only and the color is dependent on the program. The programmatic stole with program name and AIU seal is worn around the neck. The black gown with AIU seal on lapel.
The Official AIU Regalia With Cap And Gown Is Required To Participate In The Ceremony
ONCE REGISTRATION OPENS, graduates can purchase the cap and gown regalia package for their degree from our official regalia and graduation memorabilia partner, Jostens. The regalia package orders include a cap, black gown with AIU Seal, programmatic stole, and an AIU tassel. Master's graduates also receive a hood. If ordering the package, there is no need to order a separate stole or tassel unless you want an extra.
The AIU Shop For Jostens Will Be Opened At The Same Time Ceremony Registration Opens
Please be advised that if you purchased another brand/type of cap & gown for personal use, it will not be approved for wear at the ceremony. The "official" AIU regalia through Jostens is required.
Special Regalia Circumstances
If a graduate owns an AIU gown from the Associate program and is graduating from a Bachelor's program, the same gown can be worn. The appropriate programmatic stole must be purchased through Jostens.
Master's graduates who own a cap and gown from an undergraduate program, must order the Master's regalia to receive the correct Master's gown and hood.
See more Commencement FAQs
AIU's Commencement FAQ page is a go-to source to help prepare for the big day! The FAQs will be updated regularly with ceremony information and event details.
AIU Graduation Ceremony Info & FAQs

All graduates of the University are a member of the Alumni Association. Alumni Services strives to engage and connect alumni to the University and to each other to network and celebrate successes. A range of programs and events are offered to support alumni as they continue on their path of professional and personal development.
Visit Alumni Association