Online Associate Degree Programs
You could achieve a quality education by earning your associate degree online from American InterContinental University. Enrolling in one of AIU's online associate degree programs in business or criminal justice could be a first step on your journey to pursuing opportunities in either professional field, and a great option for those who would like to earn a college degree in a relatively short amount of time while laying the foundation for pursuing a more advanced degree, such as bachelor's, down the road.
Find Your Program
Associate

of Arts

Business Administration

Associate

of Science

Criminal Justice
Take the next step. Classes Start October 25, 2023
Complete this form and an AIU Admissions Advisor will contact you and provide further assistance.
AIU's Online Associate Degree Program Benefits
Adult learners can pursue two areas of study through AIU's online associate degree programs. Those interested in gaining a deeper understanding of law enforcement, the U.S. court system, criminology, and other related topics may want to explore an online associate degree in criminal justice, while those interested in studying business or management may want to learn more about the benefits of earning an online associate degree in business. Our tuition and graduation calculator can help you see how much it might cost to complete your degree at AIU, and certain applicants may even qualify for a military discount and/or prior learning credit, which could reduce overall tuition costs and allow you earn your online associate degree faster than you may think. AIU offers a number of potential benefits to help support students:
AIU accepts up to 75% of the qualifying credits required to complete your degree.1
Our intellipath® learning tool allows you to personalize your learning plan and skip what you already know, for a more efficient educational experience.
Convenient and flexible online courses offer options designed to work around a busy schedule and allow you to read, listen to, or watch, customized course content from any web-enabled device.
AIU's technical support team is available to provide 24/7 technical assistance via phone, email, or live chat.
AIU's online library provides access to articles, books, websites, and additional resources to assist you in your coursework, plus a staff of professional librarians who are here to help you when you need it.
What is an associate degree and how is it different than a bachelor's? The major differences between an associate degree program and a bachelor's degree program are: (1) the time it takes to complete the degree and (2) the depth of the curriculum. A bachelor's degree program takes longer to complete due to the greater number of courses and credits required. An associate degree requires fewer credits compared to a bachelor's because the program focus is typically on broad-based, foundational coursework.
Associate of Arts in Business Administration
Our online associate degree business program offers the opportunity to build a solid foundation of knowledge in areas of accounting, marketing, economics, and practical business writing and speaking skills. You can also study technology, including computer systems and applications used in larger corporations.
Online Criminal Justice Associate Degree
Our online criminal justice associate degree program can help you explore the fundamentals of investigation and law enforcement, law and courts, and corrections and parole. Students pursuing this degree will also explore juvenile delinquency and the juvenile justice system. Specialized coursework is designed to give you an overview of the criminal justice system and theoretical perspectives in criminology. Topics also include an introduction to the American court system, where you can examine the structure and organization of the federal and state court system with particular attention on the criminal courts.
Online Associate Degree Program Admission Requirements
Those applying to AIU's online associate degree programs must be able to supply proof of high school graduation or an equivalent program by submitting their high school transcripts, high school diploma, or GED transcript or certificate. Homeschooled students should contact an Admissions Advisor for additional required documentation. Undergraduate students pursuing an online associate degree must additionally exhibit proficiency in English and math, but there are no SAT or other standardized test prerequisites to qualify for AIU's associate degree programs. Applicants who possess job education or military experience1 should investigate whether they qualify for education credit to be applied toward an online AA degree at AIU.
Prospective students may find our list of answers to FAQs to be helpful. However, if you can't find answers to all your questions here, one of our dedicated Admissions Advisors would be happy to provide you with additional support.
Accredited Online Associate Degree Programs
AIU's online associate business degree programs are accredited by the Accreditation Council for Business Schools and Programs (ACBSP). Additionally, the Military Times has ranked AIU among its 2021 Best Colleges lists. This annual survey provides a school-by-school assessment of veteran and military student services as well as rates of academic achievement.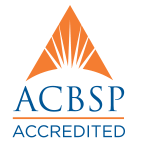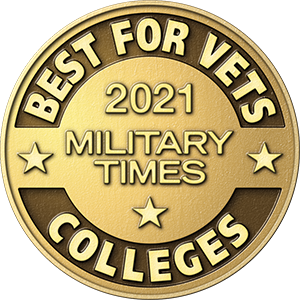 Earn Your Associate Degree in Two Years
Students who pursue their associate degree online at AIU can complete the program in as little as two years. Transfer students may be able to apply up to 75 percent of the credits required to earn their degree.1 In addition, AIU allows certain qualified applicants to receive credit for prior work or military experience to help you earn your degree in even less time. Students enrolled in our accredited online associate degree program in criminal justice might be able to take advantage of AIU's Law Enforcement Advanced Standing Program (LEASP), which can help translate your police academy training into college credits, allowing you to earn your degree faster.1
Tuition and Fees
Tuition for AIU's online associate degree programs may be affordable. Some students might even be able to save both time and money through qualifying work experience. Students should begin researching financial aid options upon notification of acceptance to AIU's online associate's degree in business or online associate's degree in criminal justice programs. AIU offers 15 scholarships and grants that could help make classes more affordable for those students who qualify. Check out AIU's tuition and graduation date calculator, which can help you estimate your approximate online AA degree cost and graduation date.
Why Choose an Online Associate Degree at AIU?
An associate degree could serve as both the foundation for any future educational achievements you may pursue and as a stepping-stone on your career path, so choosing to take this important first step is a major decision. AIU's online associate degree programs offer a level of flexibility that can make earning your degree and pursuing your educational goals seem more attainable, with the added convenience of being able to choose whether to attend as a full- or part-time student. The online curriculum is enhanced by AIU's support network, comprised of faculty who can provide guidance, career services resources, and round-the-clock technical support, and is designed to ensure you have the resources and information necessary to help you succeed on your educational journey.
---
1 Transfer credit is evaluated on an individual basis. Not all credits are eligible to transfer. See the University catalog regarding AIU's transfer credit policies.
Receive College Credit for Your Past Training and Experience
See how school and work experiences could save you time and money.**
**Transfer credit is evaluated on an individual basis. Not all credits are eligible to transfer. See the University catalog regarding AIU's transfer credit policies.