Online Master's in Information Technology
American Intercontinental University's online master's in information technology programs are designed for working professionals who want to advance their knowledge in the field of information technology. AIU's dynamic, flexible curriculum adapts to changes in the field. This online master's technology program combines essential technology with business and management so that you can continue to expand your knowledge.
Find Your Program
Degree Level
Degree Program
Location

Degree Program

Information Technology (MSIT): Specialization in Information Assurance and Security

Degree Program

Information Technology (MSIT): Specialization in IT Project Management
Take the
next step.
Classes start
September 30, 2020!
Complete this form and an AIU Admissions Advisor will contact you and provide further assistance.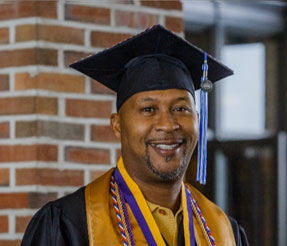 "The online option attracted me to AIU. The online atmosphere was great. AIU provided the tools and all the different resources to help me be successful in my degree."
- Anthony Wheatley
MBA 2018
BBA 2015
AIU's Online Master's in Information Technology Degree Benefits
Save up to 25% on your master's degree by taking graduate courses in your bachelor's program.1
intellipath® allows you to personalize your learning plan and skip what you already know to have a more efficient educational experience.
Convenient and flexible online courses offer options that work around a busy schedule and allow you to read, listen to, or watch, customized course content from any web-enabled device.
Tuition and graduation calculator to give you a general estimate of how much it may cost to complete an online program at AIU based on the information you provide.
24/7 technical support team available.
Information technology is essential in many industries. As corporations become progressively dependent on computers, the demand for IT professionals grows.
AIU's online master's in information technology program offers two specializations. Our Master of Science in Information Technology (MSIT) Degree with a Specialization in Information Assurance and Security is designed to provide instruction on how to make informed and critical decisions when a company is under cyber-attack. You may also study how to secure complex data and networks in a variety of industries.
Our Master of Science in Information Technology (MSIT) with a Specialization in Project Management is designed to provide instruction on how to use computer applications as a tool for project management. It can also help you work to develop a focused, industry-specific knowledge base common to IT professionals in the field of project management.
Online Cybersecurity Master's Degree
Our online cybersecurity master's degree program specializes in information assurance and security as applied to operating systems, database management, and computer networks. In this online master's technology curriculum, you can explore the skills needed to protect an organization's information assets. Areas covered include threats and vulnerabilities, cryptography, authentication and access control, and more. You may also explore current issues in cybersecurity, how to apply secure protocols over network systems and study security risk types, computer attacks, countermeasures and risk management.
Online Master's in IT Project Management
Our online masters in IT project management degree program is designed to provide skills needed to manage information systems and information technology projects in organizations. The curriculum covers project management, strategic information systems management, enterprise network infrastructure, and more. Industry-relevant online masters in IT coursework helps you acquire a solid foundation in leadership by studying team building, motivation and human resources development techniques. You will also work to develop common management deliverables that illustrate the ability of the project manager to control the success of projects.
---
1. The AIU Master's Edge™ program lets you get a head start on your master's degree while still pursuing your bachelor's degree, allowing you to save up to 25% on your graduate degree tuition. https://www.aiuniv.edu/masters-edge
Watch Ramon's AIU Success Story and Get Inspired
He's a first-generation American citizen and the first in his family to earn a college degree - and he finished it while serving a tour of duty in Iraq. Meet Ramon Romero and see what he has to say about AIU.
"I have the edge because I feel like I have the backing of AIU. I have that reputation, that rapport, that AIU helped build. I can go into any interview for any position I want and I have that confidence."
Meet an IT Faculty Member
Andrew Mahaney
In addition to teaching information technology courses at AIU, Andrew Mahaney is currently a lead software engineer for global security and defense technology company Northrup Grumman, where his experience includes work on the new PATRIOT Missile Interceptor Defense System. As part of his nearly 30-year IT career to date, he also spent 15 years working in the defense industry, including the FBI and National Security Agency (NSA), and 10 years as an intelligence specialist for the U.S. Marine Corps. and U.S. Army.
An IT program should help you develop a range of IT-specific skills in order to provide strong foundational knowledge for whatever area of the field you want to move into next. Read more
Understanding how to choose an IT specialization can help you narrow your focus of study to the job skills and educational opportunities (projects, resume experience, internships, etc.) that will be most relevant to your ultimate career goals. Read more