Federal Student Aid: What Are the Options for College?
Federal Student Aid: What Are the Options for College?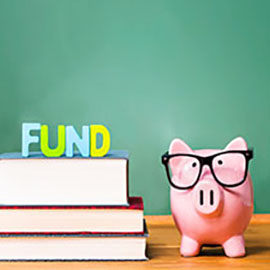 In our recent webinar on financial aid, Phil Olson, Vice President of Financial Aid for AIU set the record straight on common financial aid misconceptions and myths. Phil Olson is a financial aid expert who has helped to oversee the financial aid of over 160,000 college students.
Federal Pell Grants: Pell Grants are need-based grants available to undergraduate students. These grants usually do not need to be repaid. The amount that you can qualify for depends on several factors including your financial need, your school's tuition costs and whether or not you are a full-time or part-time student. During the 2012-13 school year, the maximum Pell Grant amount was $5,550.
Federal Supplemental Educational Opportunity Grants: FSEOGs are grants that are administered directly by the financial aid office of your school. These grants are for students with the greatest financial need. In 2013-14 FSEOG awards can range from $100 to $4,000 per year and usually do not need to be repaid.
WATCH: AIU Serious Talk - Types of Federal Student Aid
Federal Direct Stafford Loans: Federal educational loans are available to students and parents of dependent students. Our schools participate in the William D. Ford Federal Direct Loan Program (Direct Loans); for these loans the Department of Education serves as your lender. For those who qualify, Federal Direct Loans are available to students regardless of income. The amount students may be eligible to borrow depends on their degree program and financial information.
There are two types of Direct Stafford Loans: subsidized and unsubsidized. For both types of loans, students can defer their payments while they are in school. Subsidized loans have slightly better terms in that the government pays the accrued interest while a student attends college at least half-time and for six months after leaving school. Unsubsidized loans have the same interest rate as subsidized loans, but the interest accrues during school however, repayment is not required to begin until at least 6 months after ceasing to be enrolled at least half time.
---
Download Our Financial Aid Guide →
---
PLUS Loans: PLUS loans are not based on need. These loans require that the borrower have a good credit history. If you have poor credit, you may qualify by getting the signature of an endorser who has good credit. The United States Department of Education serves as the lender for this type of loan. PLUS loans are available to graduate students and parents of dependent undergraduate students. Like other government-supported financial aid, you can apply for a PLUS loan by filling out the FAFSA. Interest begins to accrue once the PLUS loan amount is fully disbursed; however, payment may be deferred up to 6 months after the student is no longer enrolled at least half-time.
Federal Perkins Loans: Perkins loans are federally guaranteed low-interest student loans with a fixed rate. These loans are designed for students with exceptional financial need. Perkins loans are available to undergraduate, graduate and professional students. Not all schools participate in the Federal Perkins Loan Program, so check with your school to see if Perkins Loans are available. With a Perkins loan, your school is the lender. You will make your payments to the school that made your loan or your school's loan servicer. Funds depend on your financial need and the availability of funds at your college.