Careers in Aging: Perfect Timing
Careers in Aging: Perfect Timing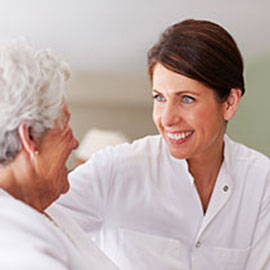 Like much of the industrialized world, the United States is an aging nation. In fact, the fastest-growing segment of the population is people 85 and older. Their numbers are expected to more than double by 2040, according to the U.S. Administration on Aging, and the population of adults over 65 is rapidly growing as well, with an anticipated doubling in their population expected by 2060.
It's little wonder, then, that careers in aging — especially among healthcare occupations — are reported among the fastest-growing in the country by USA Today. Compounding this stark demographic reality is the fact that an aging population of baby boomers means an equally dramatic increase in the number of such chronic diseases as diabetes, cardiovascular diseases, and dementia. According to the Centers for Medicare and Medicaid Services, the majority of per capita healthcare dollars are already spent on adults 65 and older, and as their number increases, healthcare expenditures will skyrocket. This shift also impacts the potential for careers in gerontology.
Geriatric Specialists
Some occupations are less about direct provision of service to older adults yet are still connected to the provision of healthcare to the elderly. Like their medical cohorts, they can expect a significant impact on job growth from aging demographics.
Healthcare business management—whether heading up a medical equipment supply company, managing a skilled nursing facility or a department within a large hospital, a huge variety of opportunities awaits healthcare managers and, according to the U.S. Bureau of Labor Statistics, the number of jobs in this field is expected to grow by 23 percent through 2022.
Geriatric care manager—a specialized profession, geriatric care managers serve as advocates and service coordinators for seniors. Education ranges from associate to doctorate level, but a master's degree is typical, and managers are primarily social workers and nurses. The BLS does not list occupational data for this profession.
Social worker—According to the BLS, social workers in general can expect a 19 percent rate in job growth. Clinical social workers—those involved in the diagnosis and treatment of mental disorders—will increase in number due to higher demand for mental health services, while medical social workers will be needed more in hospital and home health settings.
Many other gerontology careers will see increases as the demand for current services increases and perhaps for some that don't even exist as yet. If you like the idea of working with the elderly, your timing couldn't be better.