How Long Does it Take to Get a Master's Degree?
How Long Does it Take to Get a Master's Degree?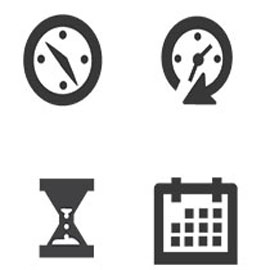 So, you're thinking about taking your education to the next level by pursuing a master's degree. But, you have one major question, how long does it take to get a masters degree? Advancing your education can help you move your career forward, learn new skills or even prepare you for a career change, but many of today's prospective graduate students are already busy with work, family, and other responsibilities. So how long does it take to get a master's degree?
In a traditional graduate program, you could expect to spend two years of full-time study, depending on the degree program. If you decide to go to graduate school part-time, you might have to extend your graduation date by another two, or even, three years. If you decide to take only one course per semester, you could be looking at nearly 10 years before earning your master's.
Luckily, today's students have more pacing options than ever when it comes to graduate study. In fact, many of today's master's programs can be completed in 12 months or less. This is especially true for executive, professional and online MBA programs. In addition to allowing students to complete their degrees in a reasonable time frame, the 12-month master's degree is designed to meet the needs of working professionals with options such as flexible schedules, online access, and shorter session lengths. Besides the MBA, additional master's degrees you can complete in 12 months or less include the Master of Healthcare Management, Master of Education and Master of Information Technology.
Make no mistake. Earning your master's degree in 12 months or less is an extremely rewarding prospect, but the work is intense and fast-paced—just like the real world. If you are looking to make the most of every moment, you should also consider online colleges.
There are many quality graduate programs offered entirely online. Attending an online college or university can save you countless hours you'd spend commuting and save you the trouble of rearranging your schedule to fit in an important class. You can study, view lectures and even participate in class discussions when it works best for you, making the most of the extra minutes you have early in the morning, late at night, at lunch or even during your commute.
Learn more about pursuing a master's degree at AIU.