IT vs. Computer Science: Choosing Your Degree
IT vs. Computer Science: Choosing Your Degree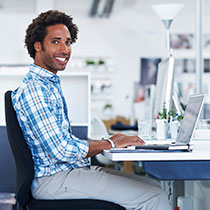 Have you wondered what the difference is between a computer science and information technology degree? Are you struggling to decide which direction to go in terms of study? Read on for an in-depth comparison of IT vs. computer science. This article will explore what courses you might take in a degree program, factors driving growth in these professions, the skills employers are looking for in job candidates, and potential career paths to take.
First, can you explain the difference between computer science and information technology?
IT and computer science are very different in their definitions. The Joint Task Force for Computing Curricula explained the differences this way in its Computing Curricula 2005 report:
People who specialize in computer science are trained in the theory of computation and the design of computer systems. The computer science discipline is closely related to mathematics and includes a range of topics — from the theoretical (such as studies of the limits of computation) to practicalities (such as issues of implementing computing systems in hardware and software). The work of people in the computer science field falls into three categories, according to the report. Those include designing and implementing software, devising new ways to use computers, and developing effective ways to solve computing problems.
On the other hand, people who are trained in information technology are prepared to meet the hands-on, practical and everyday computer technology needs of all types of organizations, including business, government, healthcare, and schools. Entities rely on their IT teams to select hardware and software products that will work best for the organization and then integrate the systems with the company or institution's infrastructure to work properly and securely. 1
So which is better to pursue in terms of future job opportunities?
Both fields are growing because of the increasing demand for new technology, the expanding reliance on mobile and wireless networks, and rising concern about cybersecurity. For example, the U.S. Bureau of Labor Statistics estimates that from 2012 to 2022, jobs for software developers are expected to grow 22%2, while jobs for network and computer systems administrators are expected to grow 12%3.
What courses might I take in IT vs. Computer Science?
In an information technology degree program, courses will depend on the specialization you choose (these might include such options as network administration, digital investigations, information assurance and security, or software analysis and development), but core courses can include:
Introduction to computer and network hardware
Introduction to operating systems
Fundamentals of programming and logic
Introduction to databases
Network infrastructure basics
Information technology security
Introduction to web systems and media
Human/computer interface and interactions4
Meanwhile, students studying computer science students are likely to see core courses in topics such as:
Software engineering
Programming languages
Database design
Computer networking
Artificial intelligence
What skills are employers looking for in IT and computer science?
An analysis of data from Burning Glass, which provides real-time labor market analytics, indicates the top specialized skills employers are searching for from IT employees include:
SQL (a special purpose programming language that stands for Structured Query Language)
Technical support
Expert knowledge with systems Oracle, Java Linux
Business process
System and network configuration
Software installation
Meanwhile, employers looking to fill openings in computer science-related jobs are looking for applicants with knowledge of:
SQL
Systems JAVA, Oracle, LINUX, JavaScript, C++, UNIX, and Microsoft C#
Software engineering
Extensible Markup Language (or XML)
While your degree and knowledge are clearly important in landing a job, employers also find so-called "soft skills," or those related to emotional intelligence, important. The list of desired soft skills align closely for IT and computer science graduates and include collaboration, communication, problem solving, organization, good judgment, and time management.4
What kind of jobs can I pursue in IT vs. computer science?
According to the Burning Glass analysis, the top jobs in demand for those with IT degrees include:
System administrator
Systems analyst
Network engineer
Systems engineer
Programmer/analyst
Meanwhile, the report showed that the top jobs for holders of computer science degrees were:
Software development engineer
Software developer
Applications developer
Systems engineer
Net developer5
What types of companies or industries hire for these positions?
The top five industries searching for IT employees include transportation manufacturing; professional, scientific, and technical services; educational services; hospitals; and merchant wholesalers.
In comparison, the top five industries searching for computer science graduates were professional, scientific and technical services; educational services; publishing industries; transportation equipment manufacturing; and administrative and support services.6
Take the next step and learn more about information technology degrees at AIU.
1The Joint Task Force for Computing Curricula 2005, Computing Curricula 2005, Sept. 30, 2005, on the Internet at http://www.acm.org/education/curric_vols/CC2005-March06Final.pdf (visited 1/20/2015)
2Bureau of Labor Statistics, U.S. Department of Labor, Occupational Outlook Handbook, 2014-15 Edition, Software Developers, on the Internet at http://www.bls.gov/ooh/computer-and-information-technology/software-developers.htm (visited 1/12/2015)
3Bureau of Labor Statistics, U.S. Department of Labor, Occupational Outlook Handbook, 2014-15 Edition, Network and Computer Systems Administrators, on the Internet at http://www.bls.gov/ooh/computer-and-information-technology/network-and-computer-systems-administrators.htm (visited 1/12/2015)
4Source: Labor/Insight (Burning Glass Technologies), 1/1/13-1/31/13
5Source: Labor/Insight (Burning Glass Technologies), 1/1/13-1/31/13
6 Source: Labor/Insight (Burning Glass Technologies), 1/1/13-1/31/13