What is an Associate's Degree? (and 5 Reasons to Pursue One)
What is an Associate's Degree? (and 5 Reasons to Pursue One)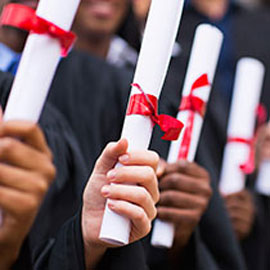 Have you considered going back to college but felt hesitant about jumping right in and pursuing a four-year degree? Try thinking about your education like building blocks: Imagine constructing a solid foundation first, and then building up from there. Thinking about furthering your education in smaller chunks can make the process seem less daunting and give you the confidence you need to move forward. If you like that idea, consider an associate's degree as a great foundation to your future.
What is an associate's degree? An associate's degree can provide you with the fundamental knowledge and useful skills you need to decide what direction your professional and academic pursuits will take. Typical programs often take two years to complete, but today's flexible online programs can help you graduate sooner, earning your associate's degree in as little as 18 months.
Consider these five reasons to consider an associate's degree:
1. An associate's degree puts you well down the path of earning a bachelor's degree, as the curriculum is built around completing many of the general education requirements you'll need in a bachelor's degree program. Generally, it takes just an additional two years of school to earn a bachelor's degree after earning an associate's degree, but some online programs can help you earn a bachelor's degree in as a little as three years total.
2. Working toward an associate's degree can help you figure out how to fit your continuing education into your life. With today's technological advances, it is possible to find time to go back to school even if you have a family and job. Earning an online associate's degree, for instance, allows you to take classes and complete assignments on your own schedule rather than being tied to the schedule of a traditional brick-and-mortar school.
3. An associate's degree allows you to get general education classes out of the way while also exploring how to focus your studies moving forward. If you're interested in business, for example, you can pursue an associate's degree in business, while then deciding whether to focus your bachelor's degree on one of the numerous specializations, such as marketing, management or finance.
4. An associate's degree can help lead to increased earnings. According to the Bureau of Labor Statistics, median weekly earnings for workers with an associate's degree earned 19 percent more than those with a high school diploma alone.1
5. An associate's degree shows you are taking steps to prepare for a brighter future. When you think about your future, do you envision yourself in a professional position that you enjoy? Do you want a career path rather than just a series of jobs? Earning a college degree, beginning with an associate's degree, can help you take a big step forward in creating a successful future for yourself. There's no reason not to get started on that future now.
Ready to take the next step? Explore associate degree programs at AIU.
---
1. Current Population Survey, U.S. Bureau of Labor Statistics, U.S. Department of Labor, "Earnings and unemployment rates by educational attainment," on the Internet at http://www.bls.gov/emp/ep_chart_001.htm (visited 2/24/15)