Bachelor's Degree vs. Associate's Degree: Where Should You Start?
Bachelor's Degree vs. Associate's Degree: Where Should You Start?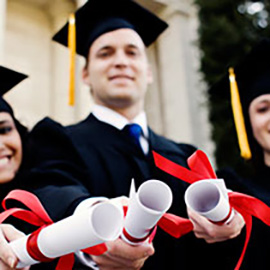 Before you take the plunge to go back to school, one of the first decisions you'll need to make is what level of degree to pursue. To help you make the choice that best fits your goals, it's important to find out more about what you can learn with a bachelor's degree vs. associate's degree.
Two Key Differences: Time and Depth
One of basic differences between the two degree levels is the amount of time it takes to earn each degree. While many consider typical timelines for bachelor's and associate's degrees to be four years and two years, respectively, at some schools, students can earn a bachelor's degree in as few as 3 years and an associate's degree in as little as 18 months.
In exploring a bachelor's degree vs. associate's degree, it's important to note that bachelor's degrees take longer to earn because they require more credits, which allow students to gain deeper knowledge in a specific field of interest, such as business management or information technology. As associate's degree, on the other hand, often is built around more broad-based, foundational coursework. These degrees allow students to work through the general education courses often required for a variety of different educational paths, such as English composition, basic science or Humanities courses.
That said, some associate's degree programs are built specifically to educate students around certain types of training or roles. While Associate of Arts (AA) or Associate of Science (AS) degrees typically serve as building blocks to bachelor's programs, Associate of Applied Science (AAS) degrees are typically vocational degrees focused on a specific area of study.
Discover Your Interests by Starting with an Associate's Degree
If you know you want to earn your degree but aren't yet settled on a specific career path, an associate's degree may be a good place to start. This approach can help you decide what subjects interest you before making the larger commitment to completing a bachelor's degree. And it's a prudent avenue if you want to get a feel for going back to school while also positioning yourself to transfer to a bachelor's program down the road.
You may want to pursue an associate's degree in business administration (AABA), for example, as a starting point that can serve as a basis in pursuing other majors later on. Business-related coursework in accounting and marketing as well as general studies coursework like basic computer skills or business math are foundational courses that can serve as a sturdy springboard to bachelor's programs in areas such as accounting or finance.
If you're considering start with an associate's degree and have a bachelor's program in mind as a next step, make sure to research transfer requirements if you'll be attending two different schools, such starting at a community college and transferring in to a university.
Extend Your Learning with a Bachelor's Degree
While an associate's degree can get you off to a good start, many of today's employment opportunities require a minimum of a bachelor's degree. This higher-level degree also can pay off more in terms of salary: According to the U.S. Bureau of Labor Statistics, those with a bachelor's degree earn 39 percent more per week than those with an associate's degree.1 And you may decide on a bachelor's over an associate's when you consider how much more you might learn. A bachelor's degree not only can provide you with a sound liberal arts education––similar coursework to what you'd complete in a two year program––but it also affords you a more comprehensive education in your major.
Whereas you might have a good, working knowledge of the basics with an associate's degree in business administration, a bachelor's provides a wider breadth of coursework for a more in-depth understanding in your discipline. Likewise, in many institutions, you can specialize within a major, earning a business administration degree with a specialization in marketing, finance or project management, for example.
Have a Game Plan in Mind
If you're still considering a bachelor's vs. associate's degree, more research is a likely a good idea. Look at specific programs you're considering as well as the requirements for career paths you might want to pursue. Explore the market in your area for your field of interest and if you can, talk to hiring managers and career counselors for their advice before making your decision.
Ready to learn more? Explore associate- and bachelor-level degree programs at AIU.
---
1. Based on median weekly earnings. http://www.bls.gov/emp/ep_chart_001.htm. These are national projections covering all levels of experience; conditions in your area may be different.