The Top In-Demand Jobs With a Business Degree
The Top In-Demand Jobs With a Business Degree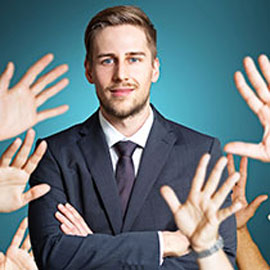 A business degree offers an impressive amount of versatility when it comes to the path of your career. There are a tremendous number of in-demand jobs that require employees to have an intimate knowledge of the way business works together with effective administration techniques. Here's a look at some of the top business management jobs companies are hiring for, per an analysis of 302,315 job postings in 2014 by labor market analytics company Burning Glass.1
Business Analyst – Business analysts study either the entirety of an organization or a given part of it — such as the budget, management structure, or market research — assessing its strength and weaknesses and offering recommendations for improvement. Management analysts, for instance, are focused largely on improving a business's efficiency by advising managers on ways to improve profits, and it's a field that's poised to grow faster than average, according to the Bureau of Labor Statistics (BLS).2
Account Manager – Account managers are responsible for managing business interactions with particular clients. In most cases, an account manager is the principle point of contact between a business and a client, relaying client concerns to the appropriate areas of the business. Account managers seek to maintain and improve the relationship between the organization and its customers.
Human Resources Manager – Human Resources managers are responsible for orchestrating a business's administrative functions. This includes all aspects of the recruiting and hiring process as well as collaborating with executives on strategic business planning. Human resources managers also serve as the principle point of contact between an organization's managers and its employees. As such, this is a position that requires strong interpersonal skills. Given that nearly every industry employs human resources managers,3 those seeking such positions will likely find ample opportunities.
Sales Manager – This position entails directing a business's sales team, analyzing sales data, setting goals, and creating training courses for sales representatives. This is an excellent occupation for those who enjoy traveling, as sales managers often meet with dealers and distributors.
Sales Representative – Sales representatives negotiate the terms of sales agreements and address the questions and concerns of customers. The outlook and job requirements for sales representatives are dependent upon the industry in which they work. O*NET OnLine, a database of occupational information developed for the U.S. Department of Labor, identifies wholesale and manufacturing sales representatives as having a bright outlook.4
Marketing Manager – Marketing managers oversee advertisements and promotions for a business, often collaborating with sales agents and art directors to achieve their goals. According to the BLS, 24 percent of marketing managers work for advertising agencies, though many businesses fill these positions in-house.5
Store Manager – Store managers, sometimes known as retail managers, oversee the operations of a retail storefront. Responsibilities range from hiring decisions, to meeting sales goals, to handling all aspects of product management, to addressing customer concerns. Store managers may also have subordinates with some management-level responsibilities, in which case it's also necessary to effectively assign responsibilities.
Financial Analyst – Financial analysts provide guidance on investment decisions to both businesses and individuals. Much of the role involves assessing the performance of stocks and other types of investments, remaining educated on the latest economic business trends, and preparing written and verbal reports for management and investors. This is one of the most in-demand jobs for graduates who hold a business administration degree, as the BLS predicts that the profession will grow by 16 percent through 2022, or faster than average.6
Human Resources Analyst – Human resources analysts study an organization's human resources practices and recommend improvements. Human resources analysts can study and recommend improvements in workflow procedures as well as assess various company programs and collect data to set salary ranges.
Buyer – Buyers, also known as purchasing managers or purchasing agents, are responsible for buying products that a business can either use or resell. This position entails a great deal of research to evaluate suppliers, and also requires the negotiation of purchase contracts and the ability to ensure the quality of products.
Ready to learn more? Explore online business degrees at AIU.
---
1. Labor/Insight (Burning Glass Technologies), 1/1/14-12/31/14
2. Bureau of Labor Statistics, U.S. Department of Labor, Occupational Outlook Handbook, on the Internet at http://www.bls.gov/ooh/business-and-financial/management-analysts.htm (Visited August 16, 2015)
3. Bureau of Labor Statistics, U.S. Department of Labor, Occupational Outlook Handbook, on the Internet at http://www.bls.gov/ooh/management/human-resources-managers.htm (Visited August 16, 2015)
4. O*Net OnLine, on the Internet at http://www.onetonline.org/link/summary/41-4011.00(Visited August 16, 2015)
5. Bureau of Labor Statistics, U.S. Department of Labor, Occupational Outlook Handbook, on the Internet at http://www.bls.gov/ooh/management/advertising-promotions-and-marketing-managers.htm (Visited August 16, 2015)
6. Bureau of Labor Statistics, U.S. Department of Labor, Occupational Outlook Handbook, on the Internet at http://www.bls.gov/ooh/business-and-financial/financial-analysts.htm (Visited August 16, 2015)