9 Types of MBA Degrees: Which is Best for You?
9 Types of MBA Degrees: Which is Best for You?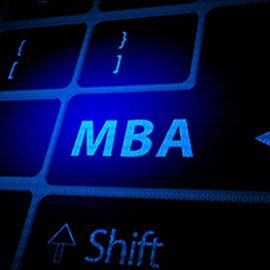 MBA degrees are the most popular postgraduate degree among American students, constituting 25.4% of all master's degrees granted by U.S. colleges and universities in 2012, the latest year for which data is available.1 Because it's such a versatile degree that appeals to traditional students and current working professionals alike, the types of MBA degrees available have gradually expanded to cater to a variety of personal, professional and educational preferences.
But how do you know which type of business degree is right for you? Some questions to think about include: What stage are you at currently in your career, and what are your professional goals? Are you going to continue working full time while going back to school, and if not, how much time do you have to invest? Do you hope an MBA degree will open up more possibilities for promotion at your current job, or are you looking for a way to switch careers?
Below we break down the nine most prominent types of MBA degrees and break down the factors that may make each appealing.
Full-Time – Still the most common type of MBA, a traditional full-time program usually includes two years of coursework. This can be a good option for those who don't know exactly what type of career or industry they're looking to work in yet, and the length of these programs may allow for an internship, which can provide an advantage when you enter the job market. (Some full-time programs may be able to be completed in 18 months, depending on how many courses students are able to take per semester and whether summer classes are offered).
Part-Time – Typically, part-time MBA programs stretch coursework over 3+ years by offering evening (and sometimes weekend) classes outside of normal work hours. Those who are already working full time and need to continue to do so while they return to school may find that a part-time program allows them to make steady progress toward a degree without overloading their work-life balance.
Accelerated – Accelerated MBA programs are designed to be completed in 1 year, which can make them a good option for those who already have some professional experience and want to advance in their current position as quickly as possible. However, take note that the pace and workload of such programs is often intensive, so students should plan for how they will balance the demands of the schoolwork with family and professional demands.
Online – Designed to let students work through MBA coursework at a pace and in a setting that work for them, the flexibility of online MBA programs is often most appealing for those looking to pursue their degree while working full or part-time. Because online programs don't require attendance on a physical campus location, they are also good options when relocation is not possible based on current professional or family obligations. Online universities also may offer accelerated, one-year MBA programs.
Executive – Executive MBA (EMBA) programs require a certain level of prior professional experience for applicants to be admitted (sometimes as many as 8 to 10 years). One key difference between an executive MBA vs. a standard MBA is that EMBAs are designed for those already working in mid-level business management positions and focus on further developing this already-significant level of expertise. EMBAs usually hold classes on weekends but may also require some weekday work, so support from one's current employer is usually necessary in order to complete this degree.
Professional – Professional MBA programs (commonly listed as PMBAs or MBAs for professionals) are typically fairly close in structure and time commitment to part-time degree programs. However, those actually designated as professional MBA programs may be catered more specifically to those who have at least several years of professional experience.
Dual Degree – Programs offering a dual MBA degree allow students to pair their business-focused coursework with classes in other programs, such as education, law, or political science. Dual MBAs are most often pursued by traditional full-time students with an interest in additional professions or industries in which a business degree is not the primary criteria for employment.
International – International (or global) MBAs are targeted toward current executives, usually run 1-2 years, and are designed to prepare students for upper-level management positions with a more global scope than an EMBA degree.
Certificate Programs – While not actually an MBA degree, certificate programs offer specialized training in a particular area, like organizational leadership, digital marketing, financial management, business analytics, or project management. A certificate from a recognized program won't necessarily substitute for an MBA, but it can be useful if you need to demonstrate a specific type of expertise in order to advance in your current position.
Ready to learn more? Explore one-year MBA programs at AIU.
---
1. National Center for Education Statistics. "Bachelor's, master's, and doctor's degrees conferred by postsecondary institutions, by field of study: Selected years, 1970-71 through 2011-12" on the Internet at https://nces.ed.gov/programs/digest/d13/tables/dt13_318.20.asp (visited 12/21/15).