What Can I do with a Bachelors in Information Technology?
What Can I do with a Bachelors in Information Technology?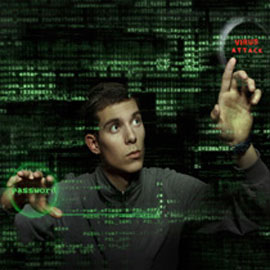 Computers, network systems, and Internet-ready devices dominate human life in the 21st century. With all this technology weaving through our lives, there is a need for trained individuals to work with these systems.
Computers, networks, and systems all need to installed, administered, and maintained; and qualified individuals are needed to perform these tasks. Having a desire and ability to work with computers and computer systems is not the only consideration students should make when pursuing an IT education. Students also need to know what a Bachelor's in Information Technology can do for them. What jobs are available for graduates?
Computer and Information Systems Manager
Computer and Information Systems Managers, also known as IT Managers or IT Project Managers, are responsible for planning, coordinating, and directing an organization's computer systems and networks. Their primary task is to identify an organization's network needs and implement systems that will assist the company in meeting those goals. [bls.gov]
Network and Computer Systems Administrator
A necessity for almost any business using computers and networks, an administrator is in charge of overseeing the day-to-day operations of IT systems. Typical duties include organizing, installing, and supporting an organization's network systems. This is accomplished by analyzing the needs of the business, installing a system to meet those needs, tracking the performance of that system, and conducting maintenance operations to keep the system up and running. [bls.gov]
Database Administrator
Within the field of IT there are a number of highly specialized positions available for graduates. A Database Administrator is a perfect example of a specialized career in IT. Individuals in this position are responsible for the storage and organization of business related data, such as employee payroll records or customer shipping records. It is also a Database Administrator's job to ensure this information is accessible to proper users and protected from unauthorized access. [bls.gov] Software Developers
In the field of Information Technology there is hardware work, such as physical systems, computers, and networks, and then there is software. The job of Software Developers is to design the applications companies will use to operate more efficiently and effectively on a daily basis. [bls.gov]
Computer Systems Analyst
It is the responsibility of a Computer Systems Analyst to study an organization's current computer systems and advise management on what changes and updates need to be made to ensure their operations remain efficient and effective. Analysts perform this task by examining and understanding the benefits and limitations of both the business and the computer system it has or needs. [bls.gov]
Information Technology positions are expected to remain strong as computers and network systems become more and more integrated into modern society. A recent Yahoo! Education poll of human resource experts showed that IT related degrees, such as a Bachelor of Computer Science, are highly sought after. The Bachelor of Computer Science, for example, ranked #5 in the poll.
---
http://education.yahoo.net/articles/degrees_employers_want_2.htm?wid=1004&svkid=MQMS&usid=1b63a118-85ca-4391-a56c-50ff273a9924
http://www.bls.gov/ooh/Management/Computer-and-information-systems-managers.htm#tab-2
http://www.bls.gov/ooh/computer-and-information-technology/network-and-computer-systems-administrators.htm#tab-2
http://www.bls.gov/ooh/computer-and-information-technology/home.htm
http://www.bls.gov/ooh/computer-and-information-technology/software-developers.htm
http://www.bls.gov/ooh/computer-and-information-technology/computer-systems-analysts.htm