Careers with a Bachelor Degree in Marketing
Careers with a Bachelor Degree in Marketing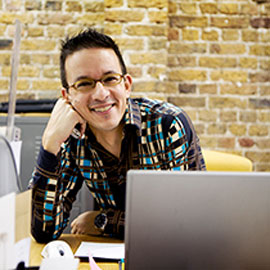 It typically takes four years to obtain a bachelor's degree in marketing from a university program. Accelerated programs may allow students to finish within three years, and part-time classes can take several years longer. The advantage of having a bachelor's degree in marketing is that it can lead to jobs with more challenge and responsibility. Despite what many people believe, marketing is not entirely related to advertising. It is also associated with creating a brand and finding the best way to get goods and services into society. Marketing covers the entire process of creating an impression of products and brands. (Bureau of Labor Statistics)
University courses on the marketing track include business, statistics, business math, advertising, economics and survey design. Research is one of the most valuable skills taught in marketing courses, especially as marketers produce, distribute and study surveys and their results. Marketing students must also be able to identify customer needs and the stages of product development. Students become acquainted with different communication strategies involved in planning, developing and selling a good or service. Fast thinking and quick responses are also important elements of working in the business world.
Marketing jobs will require skill and knowledge of different aspects of business and management, including finances and advertising. Every type of business requires the use of marketing professionals in some way. Some marketers might work in advertising, brand management and public relations. Some marketing graduates go on to work in fields that are not directly related to marketing but require similar business skills.
Marketers work in many different roles and can be found in many different types of organizations. Here are some common careers, according to About.com, for people with bachelor's degree in marketing or bachelors in business administration specializing in marketing:
Account executive professionals are people who work as a sort of liaison between the company he or she works for and the company looking for representation. Account executives work to engage new contacts and secure their business. They also maintain relationships with businesses with previous accounts.
Marketing graduates often go on to work in public relations. Public relations specialists handle all communication that a company has with the public and media. Public relations representatives can write press releases and speeches. They may give statements to the press regarding important issues. Excellent written and oral communication are essential for this career.
Marketing majors who would like to come up with strategies and plans for integrating goods and services into potential markets can become marketing professionals. They can work to determine the demands of the potential market for a brand or product and set up distribution and promotion. They also try to find prices that can maximize the company's profits.
Market research analysts look into different markets and analyze the data gathered from surveys to help determine which markets products and services will sell best in. It takes a lot of work to determine how much a company can charge for a product and where to sell them.
A sales representative works in marketing to sell advertising space. Sales representatives have the job of selling time on radio and television or pages in print publications. Sales reps even work with ad space on the internet. Any placement of an advertisement involves a marketing salesperson.
While many marketing students consider getting involved in advertising, they often do not consider brand management. Brand management professionals focus on the big picture of marketing; they try to determine the overall function and goals of the company, whether it is a small, family business or a large corporation. They keep tabs on competitors and look for new marketing avenues.
Some marketing majors go on to work in fields completely unrelated to marketing, or in other fields of business and administration. Marketing majors may go on to work in sociology, psychology or manufacturing. There are many options available for new graduates of marketing programs that are not strictly business related.
---
http://www.bls.gov/ooh/management/advertising-promotions-and-marketing-managers.htm
http://careerplanning.about.com/od/occupations/a/marketing_careers.htm