How to Connect with Your Classmates When Learning Online
How to Connect with Your Classmates When Learning Online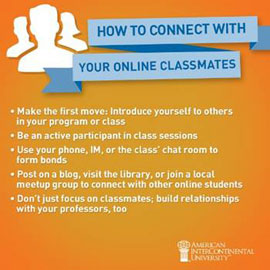 By Jennifer Olvera
Online learning certainly has its pluses, and the flexibility of being able to work an education into your existing routine is a big one. But if you're accustomed to interacting in person in a traditional campus setting, getting used to interacting with classmates virtually can be an adjustment. Below, we share seven tips on how to avoid feeling isolated when learning online.
1) Realize you're not alone.
Even though an online education may seem like a solo endeavor, nothing could be further from the truth. Fellow students, whether shy or outgoing, are in the same boat. You just have to connect.
2) Be the one to reach out.
Making the first move to create a community with online students is well worth the effort. After all, someone needs to start the process, and it might as well be you. You can also find your school's existing social communities and join in.
3) Find someone you relate to.
Introduce yourself to fellow classmates, and don't be afraid to share a bit about who you are. And while the information you share doesn't have to – and probably shouldn't be ¬– too personal, knowing you enjoy playing baseball, cooking or some other hobby helps make a human connection. Odds are, someone will share your enthusiasm, and it can be a launching pad for future engagement, such as arranging a study group.
4) Stay engaged.
Be an active participant in class sessions and group time, using your phone, instant messaging or the class' chat room to form bonds, arrange study times or simply ask a fellow student to grab a cub of coffee if you're in the same city.
5) Get out there and meet people.
It's important to seek out relationships with classmates. However, it's just as important to meet other online students. Visit your local library. Consider posting on a blog, such as the AIU blog or joining a local meetup group.
6) Take a break.
Remember it doesn't always have to be about school – a simple trip to the coffee shop can stave off feelings of isolation; given Wi-Fi is usually part of the equation, it's also a great way to study outside of your home.
7) Build a relationship with your professor.
Your professor isn't just a person with talking points – he or she is potential mentor. Besides, asking questions and showing interest has an impact – a fact that can have a positive effect down the line since you're more likely to be remembered. That's a good thing in the event word-of-mouth job opportunities arise post-graduation.
---
Jennifer Olvera is a Chicago-based freelance writer.