AIU Student Profile | Floyd S.
AIU Student Profile | Floyd S.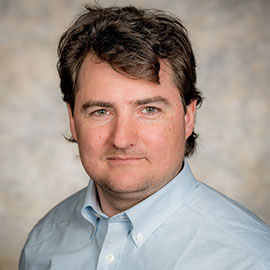 2019 Graduate
Bachelor of Science in Information Technology
Current Student (anticipated graduation date of April, 2024)
Master of Science in Information Technology
Some people simply use computers as a means to an end – to do their jobs, to complete their homework, to pay bills. But for Floyd S., computers have always been a passion of his.
"Before I got a formal education on IT, I had been pursuing an informal education on it. I had an interest in IT and some 'know how,' but I wanted to be better," he said. "That's why I wanted to pursue my bachelor of science in IT."
That's where AIU came in. The ability to attend school online while working full-time was a great fit for Floyd.
"It was very convenient, especially during my bachelor's. I could complete schoolwork and review class materials during time periods that were convenient for me," he said. "I wouldn't have been able to go to school [in-person] while working 80-90 hours a week."
At the time, Floyd was working as a warehouse assistant, loading oil field supplies onto trucks to deliver to specific oil fields or rigs. Today, Floyd works in IT as a help desk analyst at a managed service provider.
"Earning my bachelor's degree prepared me for some major certifications, and both the diploma and CompTIA certifications helped make me more appealing as a prospective employee during interviews," he said.
Additionally, AIU taught Floyd the lingo he needed for the industry. "Simply knowing how to speak the technical terms in a way that more experienced people were using helped me."
In October 2019, Floyd graduated with his Bachelor of Science in IT, with a focus on Information Assurance & Security. Now, he's back for more, having just started his Master of IT in Cybersecurity in August 2023.
To those who are considering pursuing their master's after their bachelor's, Floyd says: "Wait until you're ready. Some people can handle back-to-back years of schooling – I couldn't. I wanted to apply what I learned and focus on doing IT first."
Now that he's pursuing his master's, Floyd has his eyes set on the next goal he set for himself – pursuing work in cybersecurity or applying for the NASA astronaut training program.
"Being a little pragmatic, I know I shouldn't bet on NASA. If I can't do that, I want to work in cybersecurity," he said. "Security is my passion, and virtual security is a lot harder to satisfy in a market than in-person security. I want to protect people and their assets. I started in fields related to physical security, and as I learned more about computers and the dangers of a modern Internet-based world, I realized that the greatest assets to protect were now digital."
In as much free time as working full-time and attaining his master's allows, Floyd enjoys working on his own mail server that he created as well as going to the gym, playing video games and spending time with his wife Kathy.