6 Survival Skills for Juggling Your Education and Career
6 Survival Skills for Juggling Your Education and Career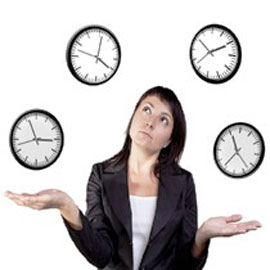 Being all things to all people is never an easy thing. In fact, it's all but impossible. And surviving the balancing act of school, work and the rigors of daily life? Well, that can definitely take its toll. Use these handy survival tips to help you not just survive but thrive when you're simultaneously juggling an education and career.
1. Be smart
Before ever embarking on an undergraduate or advanced degree, think long and hard about your career path. The last thing you want to do is waste time — make sure to find the right specialized degree program to help advance your current situation.
2. Find flexibility
Fortunately, an online education gives you the chance to work around what you already having going on in life. Choose a curriculum that lets you listen to lectures and participate in other learning activities on your own time as well as partake in virtual study groups to make multitasking a far more feasible endeavor.
3. Set goals—with rewards
Getting an education while you're working and raising a family is tough—that's just a statement of fact. Therefore, it's important to set both short and long-term goals so your eyes remain on the prize. Then when you reach those goals, reward yourself.
4. Stay organized
Because things are no doubt coming at you from all directions, it's important to not only have a plan but also a way to keep the chaos in check. When you're multitasking, it's more important than ever to stay organized. That means taking good notes, establishing (and sticking to) study routines and planning out how you will accomplish everyday tasks that could easily bog you down.
5. Take care of yourself
Don't allow yourself to get lost in the shuffle. Remembering that you have personal needs that require attending to can help keep your morale up while ensuring you recharge and reboot as needed.
6. Cut yourself slack
There are times when, try as you might, you just aren't going to be productive. That's okay. You need to give yourself the freedom to deviate from the plan from time to time—provided you have a way to make up for it down the line.
---
Looking for related posts? Find more tips on how to make going back to school work for you.