7 Characteristics of an Entrepreneur
7 Characteristics of an Entrepreneur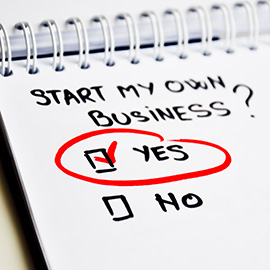 Think you have the characteristics of an entrepreneur? Some are natural, some are learned, but all of these traits are important for success.
1. They're passionate.
Successful entrepreneurs have a passion for what they do. Whether it is a brand new invention, an improvement on an existing product, or a revolutionary service, successful entrepreneurs believe that their offering is game-changing and they know why. They also know how to convey this passion to others.
2. They're business savvy.
As an entrepreneur, you will need to do everything in your business, at least at the beginning. Even as you grow and hire staff, you'll still want to know what's going on in accounting, marketing, purchasing, and everywhere else.
If you don't already have this knowledge, a business degree can be immensely helpful. A specialized degree program can teach you about all aspects of business, giving you a broad foundation to build on. At some schools, you can even pursue an online entrepreneurship degree to help you get your dreams off the ground. Having all the knowledge that a business degree provides can help make sure your new venture gets off to the best possible start.
3. They're confident.
Confidence is one of the key characteristics of an entrepreneur. This one goes hand in hand with passion. True entrepreneurs believe that they have the ability to bring their product to market. Sometimes this means trying a new approach if the first one doesn't work, as well as having the ability to overcome the obstacles that will inevitably come your way.
4. They're planners.
We've all heard the expression, "Nobody plans to fail, they just fail to plan." Nowhere is this more true than when starting a business. It's nearly impossible to over-plan. That said, be prepared for your plans to change. Entrepreneurs need to be flexible enough to discard a plan that proves unworkable and exchange it for another one.
5. They're always on.
One of the most important characteristics of an entrepreneur is the ability to market and network. Often this is a personality trait—some people are just naturally outgoing, with the ability to talk to anyone. But if you're more of an introvert, don't worry. This is a skill that can be learned.
The first thing you need to market effectively is to have an elevator pitch. This is a short speech about your product and why it's exciting. Think about what you would say if you were in an elevator with a potential investor. What would you want him or her to know in the 45 seconds or so that it would take to get to your floor?
Once you have your elevator pitch, use it. Everywhere. On everyone you meet. Tell your friends, your neighbors and the person who cuts your hair. You never know who knows somebody who might be a perfect customer, supplier or partner for you. Don't be afraid to directly call people who can help you, or seek tips to improve emails.
6. They're money managers.
Being able to manage money is an important characteristic of an entrepreneur. Having a general business administration degree can give you enough of a foundation in accounting and finance to manage the money yourself at the beginning, but if this isn't on your list of strong suits, make it the first thing that you outsource. It's way too important to be ignored while you focus on other priorities.
7. They never give up.
Bringing a product or service to the marketplace is a lot of hard work. Since you have passion and confidence already, it may not seem like work to you, but there will come times when you think you've done all you can. That's when you have to pull yourself back up, call on the knowledge, expertise, passion and commitment you have, and give it one more shot.
Learn more about the value of a business degree. Download our guide, "The Value of a Business Degree in Today's Challenging Economy."