7 Ways to Get Your LinkedIn Profile Noticed by Recruiters
7 Ways to Get Your LinkedIn Profile Noticed by Recruiters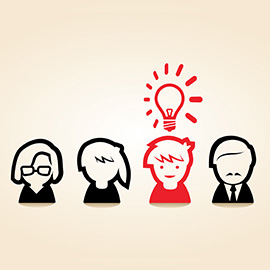 Here's a telling statistic: A full 94% of recruiters used LinkedIn profile to search for and research candidates, according to a . Are you using your profile on the professional networking site to your greatest advantage? Read on to find out what your LinkedIn page could be telling recruiters about you — and what they want to find.
Professional profile photo: A professional headshot or a crisp snapshot of you in business attire shows you are serious, professional and have good judgment when it comes to presenting yourself. Don't consider going without: Having a profile photo makes you 11 times more likely to get views, according to LinkedIn.
A healthy number of connections: At AIU's recent Serious Talk Webinar, "Who's Getting Hired and Why?" Tom LaTourette, managing partner at sales management and training company M3 Learning, discussed the importance of not only having a LinkedIn profile, but using it: "[Think of] somebody who has 40 connections on Linked in versus somebody who has over 500," he said. "You look at their connections, and you go ... 'This person actually understands how to network.'"
A concise headline: Your professional headline appears right next to your profile picture at the top of the page and encapsulates in a few words the first impression those viewing your profile — including recruiters — will take away. Having a strong professional headline tells others that you know what you want and are savvy about online networking. Your headline should capture who you are and what you do in roughly four or fewer searchable keywords. Include the region and industry you work in just below your headline, so you will turn up in recruiters' searches.
Credible recommendations from superiors, colleagues and reports: Recommendations you get and the ones you give to others can reveal a lot about you. Don't be shy about asking for recommendations from your superiors, colleagues and those who have reported to you. It gives recruiters a stronger sense of what you have to offer from nearly every point of view. The recommendations you write for others show how you interact with colleagues and what you value most on the job.
A well-written summary statement: Use your summary to expand upon your professional headline, talk about your objectives and detail what makes you passionate about your profession. If you are looking to draw attention from recruiters, be sure to include relevant keywords related to your industry and profession. Also, revise your summary occasionally to encourage contacts to visit your profile more often.
Representation in relevant groups: LinkedIn is a networking site, so use it for that purpose. Not having any group activity suggests to employers that you aren't up to date with online networking or that professional development isn't a priority for you. LinkedIn groups are a great way to get started, and with 2.1 million to choose from, it's likely you'll find one that matches your goals and interests. Once you join a group, start contributing to the conversation and start networking.
Experience in giving back: If you volunteer for a cause, be sure to note it in your profile as well as connect with your organization and fellow volunteers. "Volunteering at a non-profit, becoming really enmeshed in a cause that's important to you and taking a leadership position in that, can really be a powerful way for somebody to show leadership and management capabilities or just skill capabilities outside of work," noted LaTourette at AIU's Serious Talk Webinar.
Learn more about getting your career moving in the right direction. Download our guide, How to Go From the Job You Have to the Career You Want.