MyCAA Benefits for Military Spouses: A Guide
MyCAA Benefits for Military Spouses: A Guide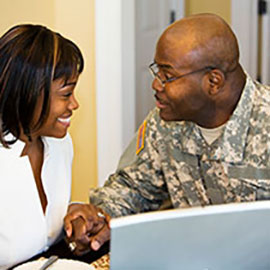 It takes dedication, sacrifice and determination to be a member of the U.S. Armed Forces, and the demands of the job are often tough on military families. Being a military spouse often means putting everything else ahead of your own career or educational goals. Fortunately, online education has made it easier than ever to find a degree program that lets you study anytime, anywhere and in a way that fits your busy life. The U.S. government also has some beneficial programs to help military spouses pay for a degree program that can help start or further their career opportunities.
The MyCAA Program
One such program is the My Career Advancement Account Scholarship Program (MyCAA) offered by the Department of Defense. MyCAA provides up to $4,000 of financial assistance to eligible military spouses to assist them in pursuing an associate's degree (excluding those in general studies, liberal arts and interdisciplinary studies that do not have a concentration). The benefits also can be used toward a license or certification at an accredited school or approved testing organization. The program has an annual cap of $2,000, but waivers are available for license and certificate programs with an upfront cost greater than that amount. Spouses may use the funds at any academic institution approved for participation in the program.1 (See the MyCAA fact sheet for details on what costs the program does and doesn't cover.)
Who qualifies for MyCAA benefits?
To be eligible, you must be a spouse of an active-duty service member in pay grades E1-E5, W1-W2, or O1-O2. This includes spouses of activated National Guard and Reserve members within those ranks, provided you are able to start and complete courses while your spouse is on Title 10 orders. The program does not cover Coast Guard spouses. You must finish your courses within three years from the start date of your first course.2 You can search for participating MyCAA schools, register, check eligibility and browse a list of potential career paths at the MyCAA Portal.
Success Stories
Jonathan Moeller, an admissions advisor at American InterContinental University (AIU), has more than nine years' experience helping veterans, military students and their families start on a path to reach their education goals. He says MyCAA is an underutilized benefit that can be extremely helpful with tuition costs. Moeller says he has helped military spouses learn about these benefits and how to access them. "One in particular was having a hard time in her search finding a school where she could bridge the gap between her funding and her tuition," Moeller explains. "Most of the schools she had tried required too much out-of-pocket during her time in school. When she came here, we were surprised to hear that she did not know about MyCAA benefits and she ended up being eligible. This, along with the fact that she liked the academic and student experience aspects of AIU, helped her make the commitment to attend and graduate."
Moeller adds that one notable limit to how MyCAA money can be applied is that military spouses must be enroll for courses leading to an associate's degree, certification or licensure; the benefits do not extend to bachelor- and master-level programs. However, students who earn an associate's degree can certainly move on to pursue their bachelor's using other resources to finance their next degree. AIU's dedicated military financial aid representatives can assist students and prospective students in understanding how MyCAA and other military spouse benefits such as tuition grants can help them reach their educational goals.
Ready to learn more? Explore how AIU serves military students and their families.
---
1. MyCAA Fact Sheet, on the Internet at https://myseco.militaryonesource.mil/Portal/Media/Default/Collaterals_Catalog/Program_Overview/MyCAA-Helping-Spouses-Reach-Career-Goals.pdf (visited 4/14/15)
2. Military.com, "MyCAA Military Spouse Career Advancement Accounts," on the Internet at http://www.military.com/education/money-for-school/military-spouse-career-advancement-accounts-financial-aid.html (visited 4/15/15)