Accounting vs. Finance: Choosing the Right Degree
Accounting vs. Finance: Choosing the Right Degree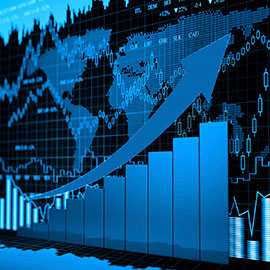 You know that you'd like your future career to focus on working with numbers and money. You know you want to pursue a business degree. That means you've narrowed it down — that's a big first step. But you still have to decide on which path to take: accounting vs. finance? It's a big decision to make before you start on the path of a bachelor's degree, because while there is overlap between the two disciplines, there are also definite differences. If you're unsure of which to choose, read on for a better understanding about what the differences are between accounting vs. finance, specifically including the coursework you can study in each discipline and the top jobs in each field.
What are accounting and finance?
People with accounting degrees usually work with businesses to prepare financial records, ensuring accurate records are kept and that taxes are paid. Other job duties might include examining past financial records and operations to make sure organizations are running efficiently. The accounting and auditing fields are expected to grow about 13 percent from 2012 to 2022, according to the U.S. Bureau of Labor Statistics (BLS).1
Generally speaking, people working in the accounting industry look to what has happened in the past. Someone with a finance degree, on the other hand, typically looks to the future. Whether working for a business or individual, these individuals responsible for strategizing and developing long-term plans to guarantee a company or venture's financial health, most typically when it comes to investments. Employment of financial managers is expected to grow about 9 percent from 2012 to 2022, according to the BLS.2
How will the coursework differ?
Whether you choose accounting or finance, you'll likely pursue a bachelor's degree in business and take some of the same core classes. But the coursework also differs in important ways.
Classes for someone studying finance might include the following:
Financial Instruments
Capital Planning
Funds Acquisition
Asset and Debt Management
Investment
International Financial Management
Budgeting
Financial Analysis3
Meanwhile, coursework in accounting can include these topics:
Principles of Financial Accounting
Intermediate Accounting I
Intermediate Accounting II
Cost Accounting
Taxation
Auditing
Accounting Information Systems
Government/Institutional Accounting4
What kind of accounting and finance jobs can I pursue?
The top job in the finance industry in 2013 was financial analyst.5 Other popular jobs related to a finance degree include accountant, bookkeeper, underwriter and account manager. Some of the top employers looking to fill finance jobs included credit intermediation services, insurance carriers, financial investment firms, educational institutions and the government.6
The top job titles in accounting in 2013? Accountants.7 Specifically, accountants can work in the public or private sector. A public accountant's clients can include corporations, individuals or a government body. Private accountants generally work for corporations.8
A bachelor's degree is generally considered the entry-level education for jobs in either industry.
What skills will I need?
When it comes to jobs in finance, the top skills employers are looking for include:
Accounting
Financial analysis
Financial reporting
Understanding of Generally Accepted Accounting Principles (GAAP)
Account reconciliation9
Meanwhile, the most-sought-after skills for accounting jobs include:
Accounting
Economics
Mathematics
An understanding of laws and tax codes10
Ready to learn more? Explore a business degree in accounting or finance at AIU.
---
1 Source: www.bls.gov/ooh/business-and-financial/accountants-and-auditors.htm#tab-6
2 Source: www.bls.gov/ooh/management/financial-managers.htm#tab-6
3 Source: www.aiuniv.edu/degrees/bachelors/business/finance?siteid=aiu_tnt_tcpa_cnt2
4 Source: www.aiuniv.edu/degrees/bachelors/business/accounting?siteid=aiu_tnt_tcpa_cnt2
5 Source: Labor/Insight (Burning Glass Technologies), 1/1/13-1/31/13
6 Source: Labor/Insight (Burning Glass Technologies), 1/1/13-1/31/13
7 Source: Labor/Insight (Burning Glass Technologies), 1/1/13-1/31/13
8 Source: www.bls.gov/ooh/business-and-financial/accountants-and-auditors.htm#tab-2
9 Source: Labor/Insight (Burning Glass Technologies), 1/1/13-1/31/13
10 Source: http://www.onetonline.org/link/summary/13-2011.01