Certificate vs. Degree Programs: Which is Right for You?
Certificate vs. Degree Programs: Which is Right for You?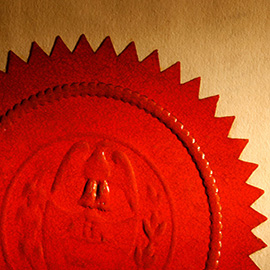 If you're exploring the idea of furthering your career, you might have wondered whether a certificate or degree program is right for you. We're here to help! Read on for differences between certificate and degree programs, the goals they each can help serve, and how long-term career prospects may differ for employers who weigh certificate vs. degree programs when deciding on new hires and promotions.
The Basics on Certificates
Let's jump right in by starting with defining exactly what a certificate program is. A certificate is a focused program of study that typically prepares you for a very specific occupation or job.
How long does it take? Earning a certificate typically takes less than a year (though some can take as long as two years).1
Who gets certificates: According to the National Center for Education Statistics, there were nearly 1 million certificates (966,084) issued by postsecondary institutions in 2012-13 (the latest year for which data is available). 2
When to consider a certificate: The NCES reported in 2013 that the most common fields in which to earn a certificate were vocational (versus academic) fields, in arenas including health and related clinical sciences, personal and culinary services, mechanic (and/or repair technologies and technicians), and business (and/or management and marketing).3
Consider your goal: If your goal is to pursue a specific entry-level position in a vocational field, a certificate might be an option to consider.
Something to think about: Certificates do not carry a degree title, which means you won't qualify for jobs that include a minimum college degree requirement as an expectation for employee consideration. Having a certificate vs. degree also may limit upward mobility in the career path you choose to pursue.
The Details on Degrees
In comparison, a degree program carries a title (an associate, bachelor's or master's, for instance) and can prepare you for a variety of short- and long-term jobs and career paths.
How long does it take: Degree programs usually start at the two-year mark (for an associate degree) and the four-year mark (for a bachelor's degree), although students in accelerated online programs can earn a bachelor's degree in as little as 3 years.
Who gets degrees: The NCES study shows 1.8 million bachelor's degrees and 1 million associate degrees were awarded in 2012-13.4
When to consider a degree: Many jobs, across all types of careers—including most managerial positions—include a minimum degree requirement as entry-level expectations for job consideration.
Consider your goal: According to the U.S. Bureau of Labor Statistics (BLS), people who have a bachelor's degree earn 65 percent more per week than those with a high school diploma alone. Earnings continue to rise for those with higher-level degrees: Someone with a master's degree for instance, earns nearly double the amount per week that someone with a high school diploma earns.5
Something to think about: While degree programs usually take two or four years of classes to complete, it is possible to take accelerated programs to earn your degree faster. Conversely, it could take you longer if you are taking a part-time load of classes rather than committing to a full-time push toward a degree.
What's next?
When deciding between a college certificate vs. degree—whether it's a certificate vs. associate degree, or a certificate vs. a bachelor's degree that you're considering—you need to think about your skill level, your current goals and your future goals. You also need to do your homework on what the requirements are for the career you want to pursue and what the future outlook is for the job you want to pursue. (The BLS Occupational Outlook Handbook is a great place to start.)
No matter what you decide, the fact that you are researching your options show you have drive, interest and understanding of how your decisions now can affect your future. Those are important first steps on the road to success!
Ready to take the next step? Learn more about online degree programs at AIU.
AIU cannot guarantee employment or salary. Find employment rates, financial obligations and other disclosures at www.aiuniv.edu/student-disclosures
---
1. Bureau of Labor Statistics, U.S. Department of Labor, Report: "Certificates, A Fast Track to Careers," p.3, on the Internet at http://www.bls.gov/careeroutlook/2012/winter/art01.pdf (visited 5/31/2015)
2. National Center for Educational Statistics, Study: "Degrees Conferred by Public and Private Institutions," on the Internet at http://nces.ed.gov/programs/coe/indicator_cvc.asp (visited 5/31/2015)
3. National Center for Educational Statistics, Web Tables: "Characteristics of Certificate Completers With Their Time to Certificate and Labor Market Outcomes," p.1 and. p.6, on the Internet at http://nces.ed.gov/pubs2013/2013157.pdf (visited 5/31/2015)
4. National Center for Educational Statistics, Study: "Degrees Conferred by Public and Private Institutions," on the Internet at http://nces.ed.gov/programs/coe/indicator_cvc.asp (visited 5/31/2015)
5. Bureau of Labor Statistics, U.S. Department of Labor, Table: "Earnings and Unemployment Rates by Educational Attainment" on the Internet at http://www.bls.gov/emp/ep_chart_001.htm (visited 5/31/2015)