Distance Learning 101: How Does Online College Work?
Distance Learning 101: How Does Online College Work?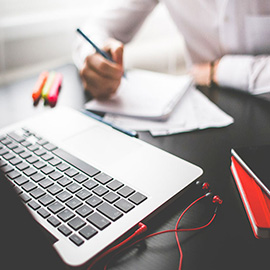 For many adult learners, going to college online is a new experience that can be both challenging and fun. If you're starting online college courses soon or considering doing so, you may have a general idea of what to expect, or perhaps you can't quite picture it. You're likely wondering, "Just how does online college work?"
Don't worry – it's a common question! The Student Advising team here at American InterContinental University (AIU) Online hears versions of this regularly from new students, and we're here to help. Below, we answer the most common questions we receive about learning online. Use this FAQ to get a head start if you're an incoming student, and if you're still considering whether to go back to school, use it to help decide if online learning sounds like a good match for your life and goals.
1. What is a Virtual Campus? What is a Virtual Classroom? The Virtual Campus is your main resource for all the administrative aspects of your college career. Think of it just as you would a "traditional" college campus, but instead of walking through doors to get to the library, or faculty office hours, or get information about financial aid, you're clicking a link. You can also access information such as your academic schedule and student accounts balance as well as assistance such as career counseling. Meanwhile, the Virtual Classroom—linked to from the main Virtual Campus, just like a building on a traditional campus—is the central hub for everything related to your actual classes. This is the page where you will access your assignments, learning materials, Live Chat discussions and more. Think of it as a combination of a traditional classroom and your personal study space, all rolled into one.
2. How do I attend class without a classroom to go to? Every online class at AIU has a weekly virtual class time, known as Live Chat, accessed from the Virtual Classroom. During this time, your instructor will review the week's assignments and suggest resources and tips for completing them, just like classes you've experienced in the past. You will also be able to ask questions and get clarification on assignments. In many courses, the weekly Live Chats are not required, though students are highly encouraged to attend. The good news is, if your schedule prevents you from participating, all Live Chats are recorded and stored in an archive in the Virtual Classroom, so you can always go back and catch up. This provides more flexibility than a traditional ground campus.
3. How does online college work in terms of assignments? Are there due dates? At AIU, online students have access to a class expectations document (similar to a syllabus), as well as their full assignment list, from the first day of class. These items can be found in the resources list at the top of the Virtual Classroom home page. We always recommend that students review their full assignment list at the start of class. Take note of the due dates for each assignment and mark them in your calendar or planner (you have one of these, right?). Take extra care to look out for big assignments that are worth a lot of points so that you are aware of when they occur and can plan ahead. If you identify any initial questions or concerns, you can contact your instructor to get them cleared up right away.
4. I have a very busy schedule. Will I be able to attend online classes? Absolutely! One of the biggest advantages of an online class is the ability to access materials on your own time, at any location (with a computer and Internet connection, of course). Everything in your Virtual Classroom will be available to you 24/7, as is technical support. Helpful resources such as tutorials, articles, and your online books can be accessed whenever you need them, as well. Your instructor and other support groups can be reached in a variety of ways to accommodate your needs. These include email, phone and instant messaging.
5. What kinds of assignments will there be? At AIU Online, assignments typically come in four different types. Students will usually have some combination of these assignment types to complete each week of the class.
An individual project is a paper, presentation, or report that students develop and submit individually.
A group project is an assignment for which students are assigned into groups to complete the work collaboratively.
A discussion board is an interactive forum in which students post their thoughts on an assigned topic and are expected to reply to each other's posts to further the conversation.
IntellipathTM is AIU's proprietary adaptive learning tool. Using assessments to your understanding of key topics, intellipath creates a personalized learning path for you that lets you skip over what you already know and focus on what you need to learn. It provides lessons and practice problems to help you learn the material as well as assessments to measure your progress.
6. How will the university keep track of my attendance and participation? Consistent participation and engagement is essential for academic success. This is no different in an online environment. AIU Online students have their participation tracked through the submission of their coursework. It is important to continue to submit your coursework at a regular pace to remain engaged in your program
7. How can I get assistance with my coursework? Online education does not have to be a lonely journey! Students at AIU Online have a complete support network available to them, and this starts with the instructor for every class. In addition to the weekly course Live Chats, your instructor is also available by email 24/7, and our policy is that they respond within 48 hours. Just like at other "traditional" schools you may have attended, instructors also are available for at least one office hour every week. Schedules for these are posted in your Virtual Classroom. Office hours are a great time to come with specific homework questions to get help. The Virtual Campus is also full of additional resources to help students. Tutoring is available, as are Learning Labs that address skills such as academic writing, APA format, and computer programs such as Microsoft Excel. Additionally, every student has a Student Advisor to assist them along every step of their educational journey and serve as guides to the Virtual Campus and Classroom and all the resources at hand.
If you're already enrolled to begin online courses, good luck on your next steps! If you're considering going back to school online and are ready to learn more, explore AIU's online programs here.