Regionally Accredited vs. Nationally Accredited: What's the Difference?
Regionally Accredited vs. Nationally Accredited: What's the Difference?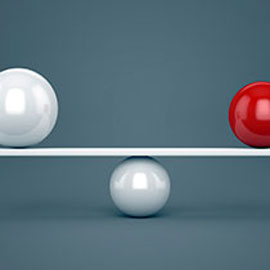 If you're researching colleges and universities, you've probably seen and heard the terms "regionally accredited" and "nationally accredited" and wondered, what's the difference? While both types of accreditation can help ensure that you receive a quality education, understanding the differences between them is important so you can make sure to have all the facts you need to choose a school that best fits your needs and goals.
Regional vs. National Accreditation: The Similarities
They are both institutional accreditations. With institutional accreditation, the entire college or university, including its faculty, departments, degree programs and curricula, are reviewed and approved by a regional or national accreditation agency. American InterContinental University, for example, is regionally accredited by the Higher Learning Commission. This differs from specialized or programmatic accreditation, which pertains to a single program or department within a college or university.1
They both ensure quality. Both national and regional accreditors require their colleges and universities to undergo rigorous review process and re-certifications every few years to gain and maintain their accreditations.
They can both be recognized by the U.S. Department of Education. It's important to understand that the U.S. Dept. of Education does not accredit schools itself, but it does recognize both national and regional accreditation agencies. The U.S Dept. of Education uses accreditation to help ensure that that federal student aid funding is used for quality courses and programs. In order for an accrediting agency to become "recognized," it must undergo a review process to determine if the accreditor meets the department's standards, a process that is governed by federal laws and regulations. Once an accreditor is recognized, it is continually monitored by the department and must renew its recognition status at least every five years.
They both can allow schools to participate in federal financial aid programs. In order to be eligible to participate in federal student financial aid programs, your school must be accredited by an agency recognized by the U.S. Department of Education. If you choose a non-accredited school, you may not be able to participate in federal (or even state) financial aid programs. This includes government-funded student loans, grants or scholarships and U.S military financial aid programs.2
Location of accreditation. Given its name, you might think that regional accreditation means that degrees from such schools are only valid within their geographic location. In fact, degree from a regionally accredited institution is valid in any state. The term "regional" simply refers to the geographical areas where the accrediting organizations operate. The six main regional accreditors work together to ensure educational quality across their networks. For example, the executives and commission chairs – known collectively as C-RAC (the Council of Regional Accrediting Commissions) – meet regularly and have developed common statements and policies. As with regional accreditation, national accreditation refers to accrediting organizations that operate and accredit schools anywhere in the United States.
How Regional and National Accreditation are Different
Types of programs they accredit. Regional and national accreditors typically differ in the types of colleges and universities they accredit. Nearly all, or 98%, of regionally accredited colleges are degree-granting, non-profit institutions, although they do include some non-degree and for-profit institutions as well.3 So what types of schools are nationally accredited? The majority, 65%, are non-degree granting institutions such as trade or vocational schools, though degree-granting institutions can be included as well. Many nationally accredited schools are focused around a single area of study.3
Transfer credit acceptance. Decisions about accepting transfer credits, whether they are from regionally accredited or nationally accredited institutions, are at the discretion of the accepting institution. However, some regionally accredited institutions have policies that restrict transfer credits from those that are nationally accredited.4 If you know you plan to transfer, it's always a good idea to check with your transfer school's admissions department and course catalog for more information about their policy.
Recognition of degrees. Some professions and industries, such as teaching or accounting, require state licensure. Before you choose a degree program, make sure that your state and industry recognizes your credentials and the type of accreditation — regional or national — your school carries.
Ready to take the next step? Explore online degree programs at AIU.
---
1. U.S. Department of Education, Accreditation in the United States, Accreditation in the U.S. on the Internet at http://www2.ed.gov/admins/finaid/accred/accreditation_pg2.html (visited March 30, 2015)
2. U.S. Department of Education, Accreditation in the United States, Accreditation in the U.S. on the Internet at http://www2.ed.gov/admins/finaid/accred/accreditation_pg9.html (visited March 30, 2015)
3. Council for Higher Education Accreditation, The Fundamentals of Accreditation, What Do You Need to Know? September 2002. On the Internet at http://www.chea.org/pdf/fund_accred_20ques_02.pdf (visited March 30, 2015)
4. Accrediting Council for Independent Colleges and Schools, Transfer of Credit on the Internet at http://www.acics.org/students/content.aspx?id=2084 (visited March 30, 2015)