Why an International Business Degree Can Give You an Edge
Why an International Business Degree Can Give You an Edge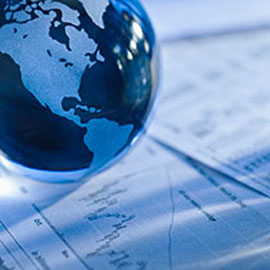 Ask most business students, and many might relay that a degree in management or finance is practical, applicable across many career paths and provides a variety of in-demand skills. But today, international trade supports 10 million jobs, with four million of those in small businesses.1 In an increasingly global economy, an international business degree can be a practical and forward-thinking path. Read on to find out how a degree in international business can help you build a strong skill set and help position you for future success.
An International Business Degree Prepares Students to Think Critically
Employment in business administration, finance, trade or in a leadership role—just some of the careers in international business you might pursue—means gaining the right skill-set. If you're considering pursuing one of these paths, a bachelor's degree in business administration with a focus on international business can teach you how to:
Analyze how international trade, international relations and finance policies affect business decisions
Adapt marketing strategies for international markets
Construct management practices and processes in an international environment while recognizing global differences
Manage operations and production on a global scale.
Look for a program that offers a practical and well-rounded education, in which undergraduate coursework includes not only fundamental business courses such as principles of accounting and marketing but also provides specialized courses such as international corporate finance, international financial management and international legal and ethical issues in business.
Careers in International Business
The good news is that careers you can pursue with an international business degree exist across a spectrum of jobs and industries, such as:
Business Development Manager: The primary responsibilities in this role are to find new clients, explore new markets and build business relationships to help an organization achieve growth.2 Business development managers are found in many industries, from construction to advertising and healthcare. But they can also work with international clients in these and other fields, focusing on business development planning and client retention.
Management Analyst/Management Consultant: This position helps an organization operate more efficiently and effectively. It's a high-level, executive position and one found in Fortune 500 corporations3–– many of which do business globally. Some consultants are "specialized in a certain area or industry," according to the Bureau of Labor and Statistics (BLS), and typically they have worked in that field for many years prior to becoming a consultant.4
International Foreign Policy Advisor: If you're interested in civics or shaping policy through either a government agency or private organization, this position could be an exciting fit. Many in this field hold a graduate or doctorate degree, but earning a degree in international business can set a good foundation.5
And, most importantly, a degree in business administration with a focus on international business gives you an advantage over other candidates. As many companies seek to expand to immerging markets, someone with a sound understanding of international business infrastructure, and who knows how to successfully develop the business based on international policy may stand to have a better chance of securing a position than someone who has a general business background.
Travel is a Large Part of Many of These Careers
Those pursuing a career in international business can expect that part of their job requirements will include travel. Whether the job entails a regular schedule of travel abroad or it's a position that's based abroad, a career track in international business is well-suited for someone who enjoys different cultures and travel; it's an attractive benefit for professionals who seek a career that's not based in a nine-to-five office setting.
Set up an Appointment with a University Admissions Advisor to Learn More
If you're still unsure of what kind of career would be a good fit for you, but the coursework and idea of pursuing an international business degree interests you, start by scheduling an appointment with an admissions advisor at a school you're interested in attending. Find out how your background and interests are a good match for positions that require--or are well-served--by a degree in international business.
Ready to take the next step? Learn more about business degrees at AIU.
---
1. House Committee on Small Businesses, on the Internet at: http://smallbusiness.house.gov/issues/issue/?IssueID=8234 (visited 3/9/2015)
2. Forbes.com, "What Does a Biz Dev Person Actually Do?" on the Internet at http://www.forbes.com/sites/scottpollack/2012/03/28/what-does-a-biz-dev-person-actually-do/ (visited 3/11/2015)
3. Harvard Business Review, "The Rise of the Super Temp," on the Internet at https://hbr.org/2012/05/the-rise-of-the-supertemp (visited 3/14/2015)
4. Bureau of Labor Statistics, U.S. Department of Labor, Occupational Outlook Handbook, 2014-15 Edition, Management Analysts,
on the Internet at http://www.bls.gov/ooh/business-and-financial/management-analysts.htm (visited March 17, 2015)
5. Study.com, "Foreign Policy Professional: Job Description and Career Info," on the Internet at: http://study.com/articles/Foreign_Policy_Professional_Job_Description_and_Information_About_Starting_a_Career_in_Foreign_Policy.html (visited 3/10/2015)
The presence of specific potential jobs on this list does not guarantee availability of career opportunities. All statistics referenced are national historical averages and the figures in your area and at the time of your job search may be different.