Where Can I Use a Computer Away from Home? 7 Places to Look
Where Can I Use a Computer Away from Home? 7 Places to Look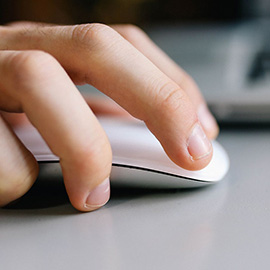 Online college students need two basic tools in order to attend class, study and complete assignments: a computer and a reliable internet connection. Yet amid work, a busy personal life and rigorous study, there will likely be times when online students need online access on the go. So, you may ask, where can I use a computer or get Internet access away from home?
Being a successful online student is all about planning, but you can't plan for everything. Maybe your computer isn't working properly. Perhaps your Internet connection is down. Or you might simply be traveling or in the middle of a busy day. Since you don't always know when these things will occur, it's important to have a go-to back-up option (or two) so you won't be left scrambling. The best plan is to scout your area ahead of time and determine where you can get the best connection and computer access. Read on to discover seven places to start.
1. At the office:

Most likely, your office has everything you need to write that paper or post to your discussion board: a computer, a desk, a chair, space to work, a secure Internet connection and flexible hours. If you can't log into your online class from home, your office could be the next best thing. Just be sure not to do it on company time - and to clear your off-hours activity with your boss first.

2. A friend's house:

Don't be afraid to reach out to your support system of friends and family for help while you are pursuing your online degree. You'll need their advice, encouragement and sometimes, even their Wi-Fi when you are away from home or if you are having technical difficulty at your own place. After all, isn't that what friends are for?

3. At the library:

Not only can you get a good Wi-Fi connection, you can typically access decent computers for free at your local library. Public libraries are also available in most every community, so if you are traveling, inquire about their guest policies. Library hours can vary from town to town, typically opening late and closing early on weekends, so call ahead to find out when your library and computer lab is available and if you need an appointment.

4. Community centers:

Free Wi-Fi connections and computer labs are often available in community centers, especially in large cities. If you are traveling and from out of town, call ahead to learn their guest policies, hours and usage limits.

5. Cafes and restaurants:

These days, many coffee shops and restaurants offer some sort of free Wi-Fi access, allowing you to log into your classes with a laptop. Getting an establishment's Wi-Fi password is often as easy as politely asking your server. It's a good idea to get to know which cafes have the best Wi-Fi connectivity by testing them out ahead of time. If you are new in town, pick up some tips about the best places to connect (and their guest Wi-Fi passwords) on social media sites like Foursquare. Just remember that open networks are not secure or encrypted. These popular places can be prime targets for anyone looking to sniff your data. (Learn the basics about keeping your data safe on public Wi-Fi networks here.)

6. Hotels:

Hotels are another option to scope out, as many offer guests complimentary Wi-Fi access or have an open guest network you can access from the lobby if you aren't a hotel guest. Lodging that caters specifically to business travelers often has a guest office complete with computers, printer and a fax machine.

7. Fitness centers:

If you are enough of a multi-tasker to get your homework done on a recumbent bike or a moving treadmill, consider using the Wi-Fi at the gym. You may not get the best bandwidth, however, since so many users stream music or their favorite TV shows, but it's worth a try, especially during off-peak hours.