12 Career Skills Employers Look for in Management
12 Career Skills Employers Look for in Management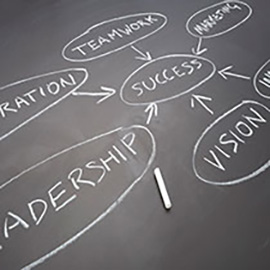 You have a job you enjoy with a solid resume of expertise and experience, but now you're looking to advance your career to the next level. You know getting ahead calls for more than just basic employability skills — what are the most important career skills for a management position? In what can often be a crowded group of colleagues all going for the same few available positions, how do you make yourself stand out in a field of applicants?
While you should make sure to develop additional skills specific to your industry, the following management skills list can help you get ahead when applying for middle-to-upper-level positions and promotions.
Administration – While a business degree may cover many of the administrative tasks you'll be responsible for in a managerial role, hiring committees like to see that you have some hands-on experience as well. On your resume, try to highlight any previous administration responsibilities you've been responsible for, even just those for a short-term project like planning presentations or coordinating meetings.
Collaboration – Managers often need to work with other team leaders as well as with the employees they supervise, and the ability to contribute new ideas while fully hearing out the suggestions of others is crucial. When applying for management roles, highlight any experience you have collaborating with colleagues, your own supervisor, or other departments.
Leadership – More than just leading by example, one of the most essential management career skills is being able to motivate and empower your team around goals and objectives. Good managers are also good leaders who their employees can look to for feedback, direction, and advice.
Conflict Resolution – Even the best managers will encounter disputes with other team leaders and department heads, as well as having to monitor and resolve conflicts between employees. Demonstrating a proven ability to handle these situations calmly and diplomatically to the satisfaction of all those involved is a huge plus when applying to management roles.
Strategic Thinking and Planning – Since those in management roles are expected to oversee multiple projects and processes at any given time, hiring committees want to see that an applicant can look at the big picture, as well as foresee any possible challenges or obstacles down the road and prepare for them appropriately.
Goal-Oriented - The ability to set realistic goals can be just as important as establishing timelines and clear criteria for their completion. It can be very valuable in a job application letter to point to several instances where you've set professional goals and briefly describe how you met them.
Resource and Time Management – Managers are expected to make efficient use of resources, working hours, and (when applicable) budgets. Showing that you have excellent time-management skills can help create faith in your abilities to manage an entire team.
Project Management and Delegation – Moving into a management position means letting go of some of the control you're used to having on projects to which you're assigned and being able to delegate specific tasks to those on your team. This is essentially an ability to see the "big picture" and ensure that all necessary components of a project or process are running according to plan.
Motivation and Constructive Feedback – Managers need to be able to set goals for employees and motivate them to complete these goals, but they also need to be able to discuss individual performance. The ability to provide constructive criticism and feedback that motivates employees to improve is extremely important in managing a team.
Innovation – Those in management are expected to contribute more than just a consistent delivery of products and services—managers are also expected to provide ideas for how the company or department can improve.
Critical Thinking and Problem Solving – When challenges arise, team members will look to management for solutions. When applying for a manager role, it's good to be able to point to at least one time where you offered such a solution to a professional obstacle.
Public Speaking – More than just solid interpersonal communication skills, managers need to be able to express themselves clearly to small and large groups.
While it may not be a requirement in order to advance within a company, it may also be worthwhile to work toward a business management degree (for those without a bachelor's degree or without a degree in a relevant field) or an MBA. This could give you the extra push you need to stand out over fellow applicants.
Learn more about getting your career moving in the right direction. Download our guide, "How to Go From the Job You Have to the Career You Want."