2016 FAFSA Deadlines: Important Dates You Should Know
2016 FAFSA Deadlines: Important Dates You Should Know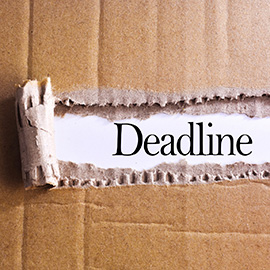 If you're planning on enrolling in college classes in 2016, chances are you're applying for some sort of financial aid – 85 percent of first-time, full-time undergraduate students enrolled at a four-year university were receiving financial aid in the 2012-2013 academic year, the most recent year for which this data is available from the National Center for Education Statistics.1 For those who are applying for the first time this year, it's important to mark down any relevant FAFSA deadlines as well as what you may need in order to complete this essential document.
What is the FAFSA?
FAFSA stands for Free Application for Federal Student Aid, and you are required to have a completed, updated version of the form on file each academic year for which you want to apply for student financial aid. The FAFSA is used to determine your eligibility for a wide range of federal, state, and local financial aid options, including loans and need-based grants. Some private institutions also use the FAFSA to determine eligibility before issuing additional aid.
There is no cost for students to complete the FAFSA, and you should take the time to do so even if you don't plan on seeking any financial aid or don't think you're eligible. Not all programs are need-based, and you may also find that you qualify for grants, which (unlike loans) typically do not need to be repaid. There's no penalty for declining financial aid, and it's better to have access to the aid options the FAFSA makes available to you if needed.
FAFSA Deadlines for the 2016-2017 Academic Year
Keep in mind that you may need to check on three separate sets of deadlines for the FAFSA in 2016: federal, state, and (in some cases) institutional dates. The FAFSA for the upcoming academic year is typically made available on January 1—so for example, the application form for the 2016-2017 school year was available to fill out starting Jan. 1, 2016.
Federal Deadline (June 30, 2017) – The federal FAFSA deadline is always June 30 of the applicable academic year. So for the 2016-2017 year, you can fill out the form any time between Jan. 1, 2016, and June 30, 2017. Keep in mind that you won't know your aid eligibility until you've completed the form and it has been received by your school. Also, keep in mind that certain programs may have limited funds, so you should fill out the form as soon as possible.2
State Deadlines – State deadlines vary, so you'll want to find the appropriate dates for your state of residence at https://studentaid.gov/h/apply-for-aid/fafsa. Some states (such as Illinois) award funds on a first-come, first-served basis until they're depleted, so waiting too long to fill out the FAFSA could mean you miss out on state aid.2
School Deadlines – Some colleges and universities may have their own deadlines for the FAFSA, so you should check with the financial aid office of each institution to which you're applying to make sure you get the form in on time.2
*NOTE: Your best option is to fill out the FAFSA as soon as possible following January 1 each year. This is the safest way to ensure you meet all deadlines and are able to receive the aid you qualify for from the widest possible range of options.
Where/How Do I Apply?
You can fill out the FAFSA online or mail a completed paper copy to the Federal Student Financial Aid Program (PDFs are available to download on the FAFSA site, or you can request a paper copy by calling 1-800-4-FED-AID). To complete the form online, you'll need to create a secure FAFSA login—make sure you keep this information for use next year as well.
Interested in learning more about how to pay for college? Explore financial aid options at AIU.
Financial aid is available for those who qualify.
---
1. National Center for Education Statistics, "Fast Facts: Financial Aid," on the Internet at https://nces.ed.gov/fastfacts/display.asp?id=31 (visited1/9/16).
2. Federal Student Aid, "Applying for Aid," on the internet at https://studentaid.ed.gov/sa/fafsa (visited 1/9/16).