How to Get College Credit for Law Enforcement & Police Training
How to Get College Credit for Law Enforcement & Police Training
Posted January 27, 2016 by AIU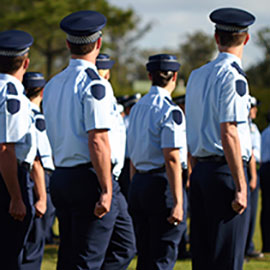 If you're currently working in law enforcement, you may have thought about returning to school for your criminal justice degree. There can be a number of career benefits to pursuing a degree, but it can also be difficult to find the time to work your way through a full bachelor's program. AIU's new Law Enforcement Advanced Standing Program (LEASP) aims to help those with previous law enforcement and police academy training turn this experience into credit toward a bachelor's degree in criminal justice.
Based on police academy classes already completed at any state-approved law enforcement academy, you may be eligible for up to 36 credits out of the 180 credits necessary to earn a bachelor's in criminal justice. This not only saves time and up to 20% in tuition costs, it also allows you to skip over material with which you're already familiar, instead jumping ahead to more advanced courses and learning new topics.
How the LEASP Program Work
Students with law enforcement experience have the option of submitting any courses previously completed during academy training, which will then be compared to the curriculum of eight LEASP-affiliated classes in AIU's criminal justice program (listed below). Official transcripts, a certificate of completion, or documentation otherwise verifiable with the original state-approved agency may be requested.
Depending on experience, students may be able to earn proficiency credit for any of the following courses:
Foundations of Criminal Justice Systems (CRJS101, 4.5 credits)
Introduction to Criminal Law (CRJS205, 4.5 credits)
Introduction to Law Enforcement (CRJS210, 4.5 credits)
Introduction to American Court System (CRJS215, 4.5 credits)
Careers in Criminal Justice (CRJS240, 4.5 credits)
Constitutional Issues in Criminal Procedures (CRJS330, 4.5 credits)
Advanced Law Enforcement (CRJS360, 4.5 credits)
Criminal Investigation (CRJS455, 4.5 credits)
Applicants may also submit unofficial transcripts to the Prior Learning Assessment Team during the admission process for a free evaluation.
Benefits of Getting Credit for Law Enforcement Training
Depending on the amount of time you're able to invest in coursework each semester, 36 credits could help you make a significant jump forward in your work toward a law enforcement degree. If you're pursuing your degree in order to open up more options along your career path — such as advanced roles in the legal/corrections system or technical and investigative positions—then getting credit for existing law enforcement or police academy courses can put you one step closer to your goals.
Additionally, while few things can match real-world, on-the-job experience, college courses offer the benefit of highly focused learning guided by experts. Even before you're actually granted a degree, the work you do in your classes can help you establish and develop additional skills to use in your current position. For instance, report writing and written and oral communication are incredibly important in the law enforcement and criminal justice fields, and the assessments included in adaptive-learning platforms such as AIU's intellipath® can be a valuable skill to master when the time comes for the assessment and certification exams that often factor into promotions.
Ready to learn more? Explore online criminal justice degree programs at AIU.