Can't Attend Your Graduation Ceremony? Try These Alternative Graduation Party Ideas
Can't Attend Your Graduation Ceremony? Try These Alternative Graduation Party Ideas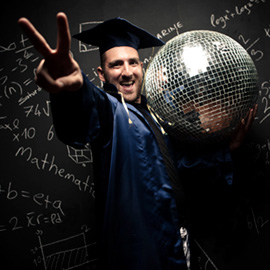 You've worked hard to reach this day. Now you're ready to put on a cap and gown, receive your college degree, and celebrate your accomplishment.
But what if, for some reason, you can't make it to your graduation ceremony?
Not to worry. Just because you won't be at your official university commencement doesn't mean you can't - or shouldn't - commemorate this monumental occasion with the full recognition and excitement your achievement deserves. If you're looking for inspiration, start with our roundup of both traditional and unconventional celebration ideas below.
Plan a "Virtual Graduation" Party
One of the most popular and typical graduation party ideas is to experience the ceremony through your virtual graduation. Invite friends and family over to join you in viewing the virtual graduation online. You can wear a cap and gown if you want to, and your party can range from a small DIY affair with cake and punch to an all-out blast with music, a catered meal, decorations and more. If you go the DIY route, plenty of help is at hand - a quick Web search will guide you to resources from Punchbowl to Pinterest with a wealth of ideas for make creative, homemade graduation-themed decorations, food and more.
Get Away From it All
It took a lot of dedication and commitment to get here – now it's time to relax! Whether it's a hike in the mountains, an afternoon at the spa or just lounging by the local pool or beach, take some time to unwind and raise a glass to toast your future.
Have a Day of Service
Another good graduation party idea is to set up a day of service. It's a nice way to share your success and pay forward your good fortune. Find an organization or cause that's important to you (and perhaps even related in some way to your field of study). Volunteer on your own for a day of solo reflection, or bring in others to make it a full-fledged group effort. Dedicating your time to improving the lives of others is an inspiring way to kick off your post-college future.
Arrange a Photo Shoot
Have professional photos taken – or enlist a friend to take some pictures – of you wearing a graduation cap and gown and holding your diploma. People looking at the photo in your living room or on your desk will never know you weren't at the actual ceremony, and it will be a nice keepsake reminder of your accomplishment for you and your family, as well.
Plan a Memorable Meal
Another graduation party idea is to take a small group of friends, family and others who supported you through your college career out for a special meal. Something unique like fondue, a steakhouse or a swanky rooftop restaurant is a nice choice, but a tight budget doesn't have to dampen the celebration. Get creative and consider an outing built around affordable options such as breakfast, barbecue or ice cream. Don't forget to make a toast, say thank you and allow everyone to cheer your accomplishment.
The effort and hard work that went into your graduation deserves recognition - make sure you mark the occasion in style!